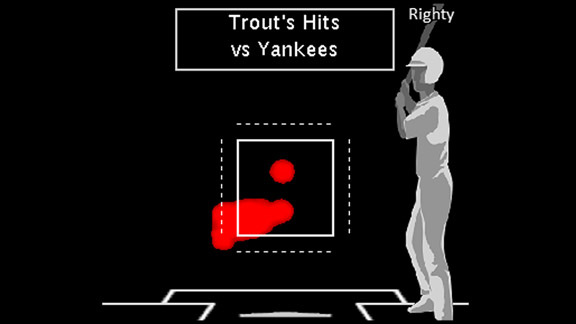 Mike Trout has shown the ability to hit pitches to this area all season.
One thing that Mike Trout validated in his first appearance at Yankee Stadium over the weekend is just how good he is against pitches down in the strike zone.
The image above shows the pitch locations for Trout's seven hits in the series vs. the Yankees. Six of the seven hits came on pitches that were in the lower-third of the strike zone or below (in other words, what we would know as "waist-high").
Angels vs Lower-Third & Below
2012 Notables
After giving up five hits on lower-third pitches to Trout in the first two games of the series, the Yankees were able to get Trout out three times on pitches to that area on Sunday.
They coaxed fly outs to right field and center field, and a ground out to short, but Chad Qualls paid the price for doing so, surrendering an RBI double to right field on a sinker to Trout in the eighth inning.
Trout nearly had another low-ball hit in the ninth inning, but hooked a line drive foul against Yankees reliever D.J. Mitchell. He'd instead walk on a 3-2 pitch that missed low and away.
Trout is hitting .385 with a .981 OPS on pitches to the lower-third of the strike zone or below. The former ranked best in the majors. The latter-ranked third-best behind Phillies catcher Carlos Ruiz and Tigers centerfielder, Austin Jackson.
Elias Sports Bureau, Did You Know?
On Mike Trout
For comparative purposes, the average major league non-pitcher hits .227 with a .645 OPS when an at-bat ends on such a pitch.
There is an advanced statistic that looks at "run value" of each pitch. In other words, if the player did something good (took a ball, got a hit), he got rewarded for doing so, and if he did something bad (got a strike, made an out), he was penalized.
Trout ranks second in terms of getting the most run value per plate appearance out of lower-third or below pitches, trailing only Ruiz.
Part of that is due to Trout's ability to get more hits than the average player on ground balls. Trout's three ground-ball hits in this series gave him 32 for the season, the most of anyone on the team.
Trout is hitting .352 when he hits a ground ball (32-for-91), the third-best in the majors this season, and 124 points higher than the average non-pitcher.