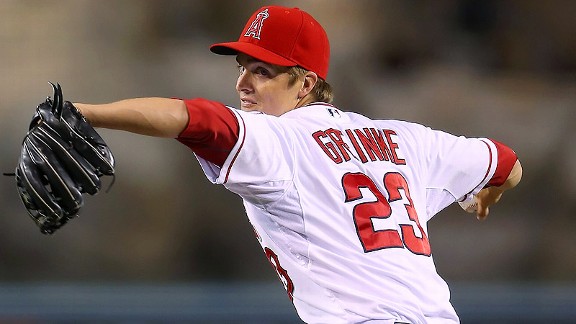 Jeff Gross/Getty Images
The Angels face plenty of tough decisions this offseason. Among them, whether or not to try and re-sign Zack Greinke.
A look at the Angels' roller-coaster season …
What went well?
Mike Trout more than advertised
As hyped a prospect as Mike Trout was (No. 1 in Keith Law's preseason prospect rankings), his season was better than the Angels could ever have imagined. He led MLB with a 10.7 WAR despite missing the first three weeks of the season. The last American League outfielder with a WAR that high was Carl Yastrzemski in 1967.
We'll have to wait and see if the baseball writers will give him MVP honors, but Baseball America has already named Trout their Major League Player of the Year and their Rookie of the Year.
Jered Weaver dominant again
Jered Weaver entered 2012 facing the tough task of trying to replicate his 2011 season in which he had a 2.41 ERA and finished second in the AL Cy Young voting behind Justin Verlander. He missed a bit of time because of injury in 2012, but had another dominant season in which he led the big leagues with a .265 opponent OBP.
This year Weaver relied less on his fastball, throwing it just 56.3 percent of the time compared to 61.7 percent last year. Not showing the heater as much helped Weaver as the opposition hit just .196 off of the pitch.
Angels Bullpen This Season
Ernesto Frieri trade
Although he faded down the stretch, Ernesto Frieri was a huge for an Angels bullpen that needed someone to pitch in the late innings. After being acquired for Donn Roach and Alexi Amarista, Frieri struck out 80 batters in 54 1/3 innings.
What went wrong?
Bullpen bust
The Angels' bullpen had 22 blown saves and a 3.97 ERA this season -- third-worst in the American League, ahead of only the Indians and Blue Jays.
Second-half slumps
The second half of the season wasn't kind to several Angels, but two key cogs really stumbled down the stretch:
Mark Trumbo: .306 BA, 22 HR in first half; .227 BA, 10 HR in second half.
C.J. Wilson: 9-5, 2.43 ERA in first half; 4-5, 5.54 ERA in second half.
What's next?
Three fifths of the Angels' starting rotation could potentially change as Zack Greinke is a free agent and Dan Haren and Ervin Santana have club options.
Greinke's immediate transition back to the American League wasn't pretty as he had a 7.20 ERA in his first four starts with the Angels, but he finished the year by allowing two-or-fewer runs in seven of his last eight starts. Getting him back could be quite expensive.
Haren's club option is for $15.5 million with a $3.5 million buy-out. That's pretty pricy for a guy who had his worst ERA (4.33) since becoming a full-time starter in 2005.
General Manager Jerry Dipoto should have an even easier decision when it comes to Ervin Santana and his 5.16 ERA. His option for 2013 is $13 million with a $1 million buy-out.
Greinke is the main free-agent starter with long-term potential. The rest of the top starters available are up there in age: Ryan Dempster, Hiroki Kuroda and Jake Peavy (if the White Sox decline his option).
Torii Hunter's contract also comes off the books this year, but the Angels should look to replace him. If not they'd potentially be bookending Trout in the outfield with a pair of guys who hit .220 and .230 this past season respectively in Peter Bourjos and Vernon Wells.
This free-agent class is stacked with outfielders as Josh Hamilton, Michael Bourn, B.J. Upton and Nick Swisher are all expected to be available.