I rarely, if ever, make a well-planned trip to Las Vegas. And by well-planned I mean having an idea I'm going to Vegas when I wake up in the morning.
The trip normally revolves around a friend asking what I'm doing later, me responding with nothing particularly exciting and concludes with us stuffing a few dress shirts into a backpack and driving to Las Vegas.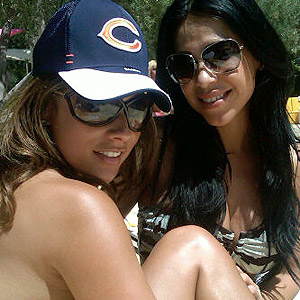 Courtesy of Arash Markazi
Former cheerleaders Bonnie-Jill Laflin, left, and Erica Arana are in Vegas with Arash.
Well, here I am again, in Vegas, having no idea I'd be writing this post from the sports book of Caesar's Palace when I woke up in the morning. Then again when you get a BBM message from Bonnie-Jill Laflin, a former Dallas Cowboys cheerleader, and Erica Arana, a former Raiderette, telling you to hurry to Vegas with a picture of both of them sitting by the pool you don't have much of a choice.
I'm here for a party I'll tell you about later but needless to say The Strip is already brimming with wannabe ballers, groupies and other assorted characters with USA Basketball in town for training camp and Saturday's USA Basketball Showcase.
To be honest, it isn't much of a "showcase" with the Kobes and the LeBrons of the world being replaced by the likes of JaVale McGee and Kevin Love, which probably explains why courtside tickets were going for $75. Call me crazy, but I'd rather watch the Showcase Showdown on "The Price is Right" than this intrasquad scrimmage.
I'll be back later with some more updates from my stay in Vegas. Well, as much of it as I can remember and won't interfere with me being gainfully employed when I return.