Major League Basbell staged something called the "2010 Taco Bell Legends & Celebrity Softball Game" Sunday night at Angel Stadium. With all due respect to the parties involved calling this a "celebrity" softball game would be like calling a Taco Bell Crunch Box an authentic Mexican dinner.
This was more like a, "Hey, where do I know that guy from" game which probably answered more "Where are they now?" questions than anything else.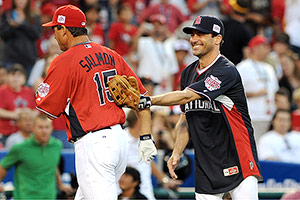 Icon SMI
Mad Men star Jon Hamm made the celebrity game worth watching.
There was M.C. Hammer, Guy Fieri, David Nail, Jon Hamm, Marcus Giamatti (I guess Paul was busy), Joe Manganiello and several others I wouldn't recognize if I saw them in the streets.
Kevin Frazier and Mario Lopez played as well presumably as a way to get Entertainment Tonight and Extra to mention the C-list love fest.
Since I didn't recognize many of the players and didn't want to ask them who they were before talking to them, I went to John Kruk, who was trying to catch his breath after playing catch with Marisa Miller, to get his take on the event.
"I'm just trying not to get hurt," Kruk said. 'That's the key for everyone out here."
Yes, you certainly wouldn't want "what's his name" or "who's her face" pulling anything out there.