New Orleans Saints Sean Payton is sitting in the posh lobby of the W Hotel in Hollywood fiddling with his phone when he sees his wife, Beth, daughter, Meghan and son, Connor, in the distance. A smile immediately comes over his face as he puts his phone in pocket, gets up and waves at them. They immediately run over and hug him, their Universal Studios passes still dangling around their necks.
Payton wishes he could have gone with them to see the new King Kong ride and get wet while riding Jurassic Park but the responsibilities of a Super Bowl winning coach and a best-selling author prevented him from spending the day with his family. Instead, he was forced to spend some quality time with someone such as myself, talking about his book, Home Team, which debuted on Sunday at No. 8 on The New York Times best-seller list.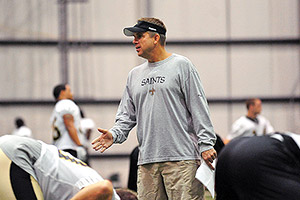 Derick E. Hingle/US Presswire
New Orleans Saints head coach Sean Payton.
I got a chance to spend some time with Payton, who despite being a Bill Parcells disciple, is the furthest thing from Parcells or Bill Belichick when it comes to dealing with the media. The 46-year-old native of coach constantly had a smile on his face as he mingled with fans in the lobby, which probably had a lot to do with the gaudy Super Bowl ring he was wearing. When I complimented him on the diamond encrusted fleur-de-lis on the ring, he immediately took it off and handed it to me and told me to try it on. "This is probably going into a safe deposit box when we get home," he said. "We're chasing another one."
As good as it felt to try it on it was nowhere near as nice as the feeling Payton had when he put it on r the first time last month. After giving Payton his ring back, I talked to him about winning the Super Bowl, his friendship with Kenny Chesney and being an acclaimed author.
Markazi: One of the most interesting sections of the book touch on your first trip to New Orleans post-Katrina when you're interviewing for the Saints job and you literally think to yourself how tough a challenge this is going to be for whoever takes this job and a few days later, there you are, taking the job. Take me back to that process.
Payton: There's a story behind that because you're getting pulled one way and then all of a sudden you end up in a place that maybe wasn't your initial plan. Not all of us follow our exact plans but it was fairly unique after Katrina and 2006 was a different time for that region and the football team was secondary to the city while everyone wondered what the recovery was going to be like.
Markazi: You're looking at your book right now, what did it feel like the first time to pick up your hard cover book? I know it was your dream to win a Super Bowl but for most writers it's to be on the New York Times best-seller list.
Payton: I was very skeptical of writing a book at first to be honest with you. I didn't want to do a traditional coach's clichéd book so I wanted it to be different. Initially you think it's going to be an easy process but when you begin writing it you recognize it's going to take a lot more work and time and there's a competitive part of you that wants it to be good. So when you get word that it's a New York Times best-seller all these things get you excited about it.
Markazi: What was it like to find out the book had made the New York Times best-seller list?
Payton: I found out through an e-mail while I was on vacation last week that it hit No. 8 and I didn't really know what that meant. I know people worked their whole lives for something like that but I'm trying to rasp what it actually means. It does give you feedback that people enjoy it. I wanted them to laugh and get emotional when they read it as if it was a long sit-down story.
Markazi: Kenny Chesney plays a large role in this book and his photos are all over the inside, tell me how your relationship with him began?
Payton: I met him first when I worked for the New York Giants and again when I worked for the Dallas Cowboys and got to know him more personally while I was in New Orleans. You come across guys like Kenny and Jimmy Buffett and various people that are fans of football and the Saints. Buffett had come to games for years and is from that area and Kenny started to come more recently and follow us. We actually signed him to a contract in '07 and had him run around for a practice and then we cut him. Those are things you do to break up the monotony of training camp and sometimes just to change things and he ended up playing the post-game Super Bowl party.
Markazi: You, Peyton Manning and Kenny Chesney actually got on stage at Sloppy Joe's, a Key West bar, and helped out with a couple songs a year before the Super Bowl. How was that and are you comfortable up on stage?
Payton: No, I'm not. I'm out of my element. I went with Dale Earnhardt Jr. and group to Key West to see him perform. It was really like a game day for him and more of a relaxing time for us.
Markazi: What kind of music do you usually listen to in the office or before games?
Payton: I was an 80's brat growing up with the MTV era and yet I like classic rock, country, reggae, everything. I do love music and seeing different shows whenever I can. I think it's a good vice to have.
Markazi: How does your off-season change when you're coming off Super Bowl?
Payton: Well, in many ways, it's busier. You get to enjoy it too but there's a lot more demand for your time. It focuses you to focus more on the balance between family and football.
Markazi: When did you know the Saints were a Super Bowl team?
Payton: I think Weeks 3 and 4 were big weeks for us. We beat Philadelphia on the road and beat Buffalo to get to 3-0 and we knew we had a good team at that point. Then along the way we beat the Giants and the Patriots and we start beating the league's best and we felt very good. There was a lot of pressure on us in that first playoff game against Arizona because we had lost three in a row so that win gave us some momentum and confidence once the playoffs started.
Markazi: You had chances to become an NFL head coach before taking the Saints job, in the book you talk about meeting with Al Davis and the Raiders and eventually turning that job down. How do you know when you have the right job?
Payton: I don't know if you ever know you got the right one but I think most importantly you don't want to look back so once you make the decision, don't dwell on it and understand there's going to be some mistakes and bumps along the way but how you handle them is the key.
Markazi: Finally, what's been the highlight of winning the Super Bowl for you so far this off-season?
Payton: The reaction of our region at the parade and during Mardi Gras was the highlight. These people have waited 43 years for this moment. That's one of the things that really motivated us to do the book; those people that are all a part of our, "Home Team."