I am far from a celebrity. All I have to do is look at my followers on Twitter and the fact that I don't need to verify my account to understand my place in the pop culture world. But apparently when you're desperate, you're desperate, I guess. That's the only way I can explain my inclusion in the fourth annual Sports Dream Celebrity Poker and Pool Party at the Playboy Mansion
Then again as I looked around the mansion and saw the likes of Jose Canseco, the Iron Shiek and Ron Jeremy milling around (I can only hope the trio will be on the red carpet for the ESPYs) I didn't feel so bad about taking a spot at one of the tables. I was invited to play by the fine folks at New Era, which was perfect because I needed a hat to hide my complete lack of a poker face.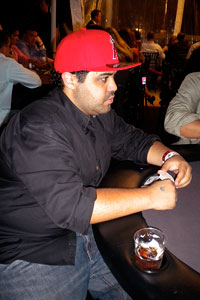 Chris Palmer
Arash Markazi tries his hand at some poker.
Since Ron Jeremy was in the house, let me tell you a quick Ron Jeremy story. A couple of years ago I was in Hollywood with my friend and MMA fighter Daniel Puder. He said he had to go meet his friend Ron at Hustler Hollywood. So we get there and "Ron" turns out to be Ron Jeremy. So we're sitting in the café outside the store and I order a smoothie named after Ron. After a couple of sips, Ron mentions he's never actually tried his smoothie, grabs my drink and takes a few sips from my straw.
Um, yeah, so you can imagine where this leaves me when he gives me back my drink. After a few minutes he notices that I haven't taken another sip from my drink and starts laughing. "Don't worry, man," he says. "I get tested all the time." Unable to think of anything else to do I nervously laugh and pretend like I'm getting up to use the rest room and knock the drink down.
"Oh shoot," I say. "I'll go get another one. Ron, you want one?"
Anyway, back to the mansion. Luckily for me, I can't bluff for the life of me and was knocked out fairly early (I'll save you all the clichéd bad break stories and just say it wasn't my night). I say luckily because the poker tournament, which started at 9pm, didn't end until 1am, and really, who goes to the Playboy Mansion to play poker with the future cast of Celebrity Rehab instead of chasing Bunnies in the Grotto?
Then again, this was a party filled with more athletes, wannabe athletes and far-from-athletes than Playboy Bunnies. Indeed, if you came here to watch Cowboys kicker David Buehler get his game on in the Playboy game room you had come to the right party.
The one saving grace was the entrance of the newest couple to grace the tabloids, Kim Kardashian and Cowboys receiver Miles Austin, who were at the party for about as long as I was at the poker table which isn't saying much. I was able to catch up with the happy couple briefly before they left and reminded Austin that being connected to a Kardashian has led to championships for the Saints and Lakers so try and not mess things up with Kim before February. He smiled and said he would do his best. So at least you have that going for you Cowboys fans.