I always felt the idea of wearing a hardhat at a construction site was akin to wearing a seat belt on a plane. It might make you feel somewhat safe but take one look at the tons of steel being carried above your head on a job site, or look down 40,000 feet below you while you're on a plane, and suddenly that piece of plastic on your head or piece of fabric around your waist doesn't seem so comforting.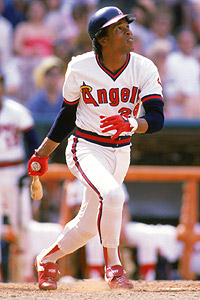 Icon SMI
Rod Carew was an 18-time MLB All-Star.
That's why, when I was invited to take a "hard hat" tour of the MLB FanFest at the Anaheim Convention Center I had my reservations. The hard hats, however, turned out to be nothing more than red batting helmets and, despite having to wear them during the tour like birthday hats to a kid's party, there was thankfully no chance of getting hit by anything other than a line drive by Rod Carew (who was on-site and is the FanFest Spokesperson).
After taking a look at the 450,000 square feet of exhibits, and nearly pulling a hamstring while running 90 feet from third base to home plate in 4.8 seconds in the "Steal Home Challenge," I caught up with Carew briefly and talked to him about the event and the MLB All-Star Game next Tuesday night.
Q: What does it mean to you to have the All-Star Game in Anaheim?
A: Well, it's funny; I played my first All-Star Game in Anaheim in 1967 as a rookie, so to have it come back and to be a part of it is a great feeling.
Q: You were an All-Star in every year you played but your final one in 1985, what was your All-Star experience like?
A: I played in 18 All-Star games during my career and you look forward to playing in them. When you were nominated you wanted to go to the game. It's just a great feeling when millions of fans vote for you and enable you to be an All-Star. Whenever you get the chance and you're voted you should want to go to the game and not want to go fishing or take the three days off.
Q: From all those All-Star games you played in, is there one moment that sticks out for you now as you look back?
A: Yes, the 1983 All-Star Game in Chicago. We were all sitting around in the clubhouse talking about how we're going to beat the National League and this guy came in, I forget who, but he said, "You know, there's never been a grand slam home run hit in the All-Star Game?" So we thought about it and he said, "Freddy Lynn, you're going to hit a grand slam tonight in the All-Star Game," and sure enough he hit a grand slam home run that night. It was sort of eerie.
Q: Is this the time when you build those bonds and friendships between fellow all-stars you might only see in passing during the season and even less in the off-season?
A: Yes, it is a good time for guys to banter back and forth. You hear the conversation in the locker rooms; you hear pitchers talking about how they got hitters out and hitters talking about what line drives or home runs they hit off pitchers. It's a great feeling among the players to sit around and talk.
Q: I saw you instruct some kids in the hitting cages and take a look at the hall of fame memorabilia here at the MLB FanFest, is there one attraction you would recommend to fans coming for the first time?
A: I always like hitting cages because I was a hitter. I like to see the kids get in there and swing the bat and have fun doing it.
Q: Finally, what's your prediction for the game?
A: The American League has to win. When I played we always talked about beating the National League and we wanted to beat them so badly and I think the same thing happens today. So the American League has to win and uphold the tradition.