Joe Torre smiled when I approached him in the dugout, moments before the Dodgers-Cubs game Thursday.
I asked him the question everyone wanted to know.
"Where's LeBron going?"
"I'm sure it will be in the clubhouse, but that's really not one of my priorities these days," he said. "I hope they raise a ton of money for the Boys & Girls Club because it's a worthy charity but beyond that, whatever."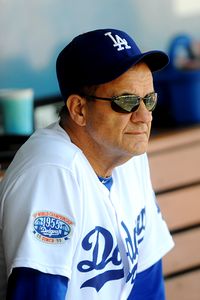 Icon SMI
Joe Torre may have a "Decision" to announce some day soon too.
Torre may be saying "whatever" now, but is there a chance he could one day reveal his own future plans in a similar one-hour special?
"I'll think about it," he said, smiling. "I'll have the money go to my foundation. The only thing is to get advertisers to find interest in my decision. That's the trick here. I don't want to get embarrassed by this thing."
OK, OK, now that you're open to the possibility, how about doing it on ESPN?
"Uh, maybe not."
What? Even if they could raise the most money for your charity?
"Then maybe I would be one of those people who change their mind. I was always very uncomfortable asking for money but when I realized it's not for me I became a little more uncomfortable."
"LeBron Watch 2010" had clearly taken over Dodger Stadium. Not only was his announcement being played on the flat screens in the Dodgers' clubhouse and in the press box but it had overtaken the Jumbotron in left field while the Chicago Cubs were in the middle of batting practice too.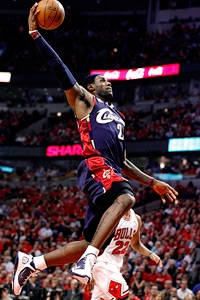 Icon SMI
Before he inspired rage in Cleveland, LBJ was all the rage at Dodger Stadium.
For what it's worth, Lou Piniella thought James would go to the Knicks. "I didn't help the Bulls," he said. I lobbied for the city of Chicago in the Olympics and that didn't work."
While it looked like Los Angeles and Chicago were out of the race in the minutes leading up to James' announcement, Matt Kemp was still staying true to his prediction that James would go to the Chicago Bulls. "It makes the most sense," he said. "I don't know if he's going to go there, but he should."
James Loney tabbed him to go to the Los Angeles Clippers, making him the only other person besides Clipper Darrell with that pick, while Russell Martin predicted James would go to the Miami Heat. "What does he know about basketball?" Kemp said when he heard Martin's pick. "He's from Canada."
Clearly Kemp isn't familiar with a Canadian by the name of Steve Nash.
The line of the night, not surprisingly, came from Vin Scully. When the venerable Dodgers announcer saw a group of us surrounding a TV in the press box as "The Decision" began he said, "What is this, the World Series?" When Scully was told James would soon be announcing which team he would be playing for, he laughed and said, "Who?"