Literally the only thing more absurd than me standing on a red carpet at an award show is me standing on a red carpet at an award show, hosting one of those "Live from the Red Carpet" shows. Yeah, that's right, me. This guy. The guy who has never been on TV before. The guy who looks like a deer in headlights even when a camera at a family party is on him. The guy who talks to fast for his own good and trips over his words like it's a slapstick comedy when he's nervous.
I'm guessing the same people who decided to have me host the first ever "Live from the Red Carpet at the ESPYS" show, which was streamed live on Facebook.com, were the same people who thought "The Decision" was a great idea. Thankfully not as many tuned in to watch me do my best Ryan Seacrest impersonation as I talked to Danica Patrick, Brandon Jennings, Lisa Leslie, Evan Longoria, Arsenio Hall and others as they walked into the Nokia Theatre.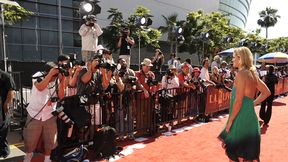 Rich Arden for ESPN.com
The red carpet was full of media.
I did a little bit of research on these red carpet shows before the ESPYS and the one common theme they all had was, there were usually two people hosting, usually a good looking guy and an attractive former model or actress and they had commercial breaks during the times when things got slow. Yeah, I had none of the above. I'm not that much fun to look at, I didn't have a co-host and instead of commercial breaks viewers listening to me as I stammered my way through a play-by-play of the guests who were passing by.
Other than all that, I thought it was a rousing success. Easily the most surreal moment of the evening was holding an ESPN microphone to Rachel Nichols' face and interviewing her. There was certainly something wrong with that picture and I told her she didn't have to worry about her job as if she couldn't already tell by the time our interview was over.
I also caught up with Bill Simmons and Kenny Mayne, who were as shocked as I was to be hosting the show. "Who's idea was this?" Simmons said. "How many people are watching this right now?"
I don't know but my running joke that at least my parents were watching wasn't even true. When I called them after the show they said their internet wasn't working so they missed it.
Probably the best part of the show was our location on the red carpet; we were next to far more professional shows like Extra, Access Hollywood and Inside Edition (I didn't even know they were still around) and the fact that I was on a riser so I looked taller than I actually am. Danica Patrick was the one guest who was actually shorter than me and joined me on the riser, which I wasn't about to complain about.
The one guest I wasn't able to get on the red carpet because we had already gone off air (online?) was Brooklyn Decker, the Sports Illustrated Swimsuit cover model I knew from back in my days at SI when I would go on some of the swimsuit shoots. Luckily for me, I was able to snag a ticket to the after-party at the Conga Room and hung out with her there.
She's going to be co-starring with Adam Sandler and Jennifer Aniston in a romantic comedy called, "Just Go With It," next year, which just wrapped production in Hawaii. (She always seems to be at an exotic location for work.) Despite being a natural in front of the camera she said she was terrified of being a presenter during the ESPYS although I told her she did far better than I did on the red carpet.
Then again, after being given a red carpet show with virtually no experience, I told her I fully expected to be back with her at the show next year, this time as a presenter. Hey, why not? The only place to go after conquering the absurd is taking on the very absurd.