It had been over seven months since Pete Carroll walked onto the field at the Los Angeles Memorial Coliseum. It looked drastically different than the stadium he had grown accustomed to the past nine years as USC's head coach. Much of the stands were covered in ramps and rails for the "Big Air" competitions taking place at the X Games, and the field looked like a Las Vegas convention with booths set up on either side for NFL 101, an annual event in Los Angeles promoting a league which left the city 15 years ago and has seemingly forgotten about it since.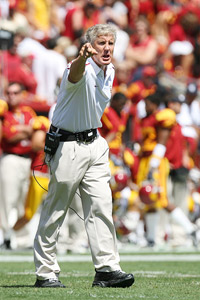 Icon SMI
It seems like forever since Carroll roamed the Coliseum sidelines.
Carroll and his USC Trojans were the closest thing LA has had to an NFL team (insert pay-for-play joke here) but with Carroll back in the NFL and the Trojans on four years probation, it seems Angelinos will have to settle for these on-field wine-and-cheese mixers where they get to take pictures with the Raiders and 49ers cheerleaders and then settle for watching the teams on TV when Sunday rolls around.
As Carroll walked around the field he looked up at the Peristyle entrance and smiled. "It's good to be back," he said. "I loved walking down that Peristyle entrance before every game. It's a great place with great memories and a great future too. I'm just fortunate to have had a chance to understand what it feels like to be a part of this place."
Carroll not only strolled around USC's locker room but took a look at the visiting locker room, a place he hadn't been in since 1993, when he was the defensive coordinator for the New York Jets.
If the memories of that game (a 24-20 loss to the Los Angeles Raiders) seem like a lifetime ago, it's been about that long since this city has seen an NFL game, which still amazes Carroll, who saw over 90,000 fans pack the Coliseum to see USC play on Saturdays.
"When the time comes and its right, everyone gets together, which may take a long time still, I know it will be well received," he said. "It will be a big deal but it looks like they still have to wait a while."
Would Carroll come back and coach whatever team Los Angeles gets, whenever that may be?
"Oh, no," he said. "I'm happy where I'm at right now. I'm not looking to move anytime soon."