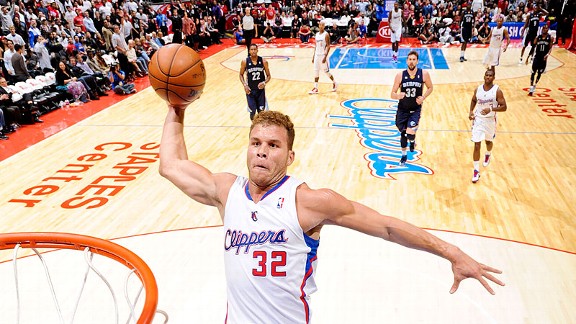 Andrew D. Bernstein/NBAE via Getty Images
Here are some keys for the Los Angeles Clippers in their first-round playoff matchup with the Memphis Grizzlies, which begins Saturday:
Control the tempo
The Grizzlies play a self-proclaimed "grit-and-grind" style of basketball, averaging the second-slowest pace in the league and physically punishing opponents with their bruising big men inside and pesky wing defenders on the perimeter.
This style of play suits the Clippers. The biggest misconception about them is that they're a fast-paced team. They rank just 19th in pace (25th after Feb. 1), and Chris Paul is notorious for being the ultimate shot-clock practitioner.
However, the Clippers may be better served trying to speed up their games with the Grizzlies. While Memphis has one of the best half-court defenses in the league, it's vulnerable in transition against the Clippers' athleticism.
In their most recent matchup in Memphis on Saturday, the Clippers scored or got fouled on 10 of their 14 transition possessions (a 71.4 percent conversion rate). Accounting for the second-most recent game in mid-March, the Clippers scored in five of six transition possessions against the Grizzlies.
That's definitely a small sample size, but it aids the theory that Marc Gasol and Zach Randolph don't want to get into a running game, especially against highfliers like Blake Griffin and DeAndre Jordan. Tayshaun Prince and Tony Allen can stymie most players at the rim in transition, but not the Clippers' dynamic big men.
Of the four matchups this season, the Grizzlies' only win came in the slowest game (80 possessions). All three Clippers wins were 87 or more possessions. To put that in perspective, the slowest team in the league, the New Orleans Hornets, averaged 90.9 possessions per game.
Even going back to last year's grueling seven-game playoff series, possession count mattered. Three of the Clippers' four wins had 92 or more possessions. Meanwhile, two of the Grizzlies' three wins were 90 possessions or fewer. Each won one 91-possession game.
Transition opportunities could help the Clippers scramble the Grizzlies' cohesive defense. Almost every game between these two is decided by a few possessions, so easy baskets can swing a game.
Defensive X factors
Clippers coach Vinny Del Negro has stated that he prefers veterans to younger players, and it's clear by his minute distribution. Until recently, he favored Lamar Odom and Ryan Hollins over Jordan late in games, and he often plays Jamal Crawford, Willie Green or Chauncey Billups alongside Paul instead of Eric Bledsoe.
But Jordan and Bledsoe have been vital parts of the Clippers' three wins over the Grizzlies this season. Bledsoe was also a decisive factor in last year's playoff series, shutting down Mike Conley.
Conley has struggled against the Clippers all season, shooting 30 percent from the floor, but when Bledsoe is defending him, he is shooting just 18 percent. If that holds up over the course of a long series, or at least in critical moments of a close game, the Grizzlies will struggle to win more than a game against the Clippers.
Moreover, Jordan has done a great job inside against Gasol and Randolph, holding them to 44.4 percent and 41.2 percent shooting at the rim, respectively. With Jordan off the floor, Gasol (66.7 percent) and Randolph (50 percent) shoot a lot better, especially with Griffin or Hollins in the middle.
Jordan's length and defensive timing allow him to play the big men one-on-one. In particular, his reach bothers Randolph, who struggles to get clean looks against him. The Clippers have started games by defending Randolph with Jordan but will likely switch up their coverage depending on which big man is playing better.
The trio of Conley, Randolph and Gasol leads the Grizzlies' offense. If the Clippers can contain at least one of them, it significantly increases their chances of winning the series, as Memphis' 18th-ranked offense is already inconsistent because of its lack of shooting prowess.
Fight in the paint
While the other three Western Conference first-round playoff series figure to be high-scoring contests, the Clippers-Grizzlies matchup is going to be an old-school slugfest.
This is as close to a rivalry as any of the playoff series, and the Grizzlies still believe they were the better team and should have won last year. Griffin and Randolph have an acrimonious history and Matt Barnes and Allen are two of the league's most physical wing defenders, so there could be a handful of double technical fouls.
Because the Grizzlies make the fewest 3-pointers per game in the NBA, they have to find creative ways to score. Whether it's by using their size in post-ups or Gasol's ability to dissect the defense at the high post, the Grizzlies are going to try to bash the Clippers in the paint.
Gasol and Randolph rely on their unmatchable size to gain position in rebounding situations, so Griffin and Jordan will have to recover on defense and can't afford to miss box outs.
Not only do the Clippers and Grizzlies rank third and fifth in points in the paint, but they also rank second and sixth in defending opponent points in the paint, meaning something has to give.
Prediction
The Clippers must find consistent sources of offense, as Griffin (13.8 PPG, 44.4 percent shooting) and Paul (16.3 PPG, 47.2 percent shooting) have struggled against the Grizzlies, but these teams are evenly matched overall.
Even though the Clippers have won nine of 14 matchups dating to last season, most of the games have been decided in the final minute, where the Clippers have a slight advantage because of Paul's brilliance. It's going to be ugly at times, but this promises to be the most competitive series of the first round. The Clippers in seven.
Stats used in this post are from ESPN.com and NBA.com/Stats.