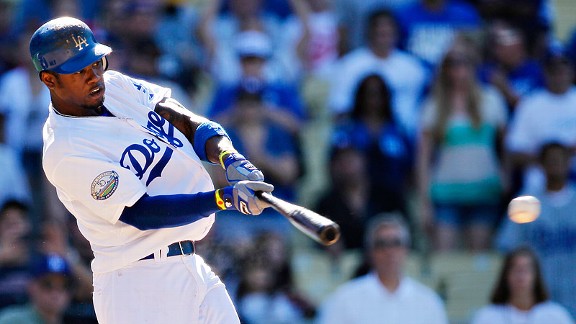 AP Photo/Danny Moloshok
LOS ANGELES -- Shane Victorino had already been in the Los Angeles Dodgers' clubhouse for more than an hour Sunday morning by the time James Loney came into the clubhouse, followed by Javy Guerra, wearing large blue headphones blasting music loud enough for everyone in the room to hear.
Victorino, his shirt already soaked in sweat, then looked at the imaginary watch on his right wrist and said they "better start showing up earlier around here."
Now, Victorino said it with a smile on his face and shared a laugh with Loney and Guerra as he grabbed his glove and went back to work, but the message was clear: If the Dodgers are to get to and win a World Series as Victorino's Philadelphia Phillies did in 2008, things are going to have to change.
There were many reasons the Dodgers made the moves they made before and after the trade deadline in acquiring Victorino, Hanley Ramirez, Randy Choate, Brandon League and Joe Blanton, who made his debut for the Dodgers in a 7-6 win against the Chicago Cubs on Sunday.
Perhaps the biggest reason -- when you look at Victorino and Blanton, who won a World Series in Philadelphia, and Choate, who won a World Series with the Yankees in 2000 -- is that they have championship experience. They have reached a level most of the players in the Dodgers' clubhouse have yet to but yearn to.
"They come with credibility," Dodgers manager Don Mattingly said. "Shane is a guy that we've played against that did well against us. He's played in the playoffs the past five years for one of the top teams in baseball. He's won a World Series championship, the same thing with Joe. ...
"It's hard for them to come in and do a lot of talking because they don't know a lot of guys in the clubhouse. You want them to come in and do their thing and as time goes they feel like they're more a part of everything."
Bringing in the right kind of players has been an ongoing discussion between Mattingly and general manager Ned Colletti since the end of last season. It's great to have a collection of young, talented players, but unless you can mix in some solid glue guys with championship experience, the team will invariably fall apart. That is largely why the team brought in Adam Kennedy, who won a World Series with the Angels in 2002, and Jerry Hairston Jr., who won a World Series with the Yankees in 2009.
"When you're bringing guys into your clubhouse you want guys that have been down that road," Mattingly said. "When you start pulling in a Jerry Hairston and an Adam Kennedy, guys that have won a championship and been a part of good clubs, and that have reputation of being good team players, those are factors we look at. We want to create the right environment for what we're trying to do."
Victorino and Blanton, traded from the last-place Phillies, chatted after the game Sunday and both already feel right at home with a team in the hunt for a division title. It may be too early for them to tell if this season will end as well as it did in 2008 but as they look around the clubhouse, they can see the pieces are certainly in place.
"There's definitely a ton of talent here," Victorino said. "We're in a position to win and now we just have to go out there and do it. We can't press, we can't do all these other things, everyone has to individually take care of what they have to and that's what wins championships."
Blanton learned how to win a championship after being traded from the Oakland A's to the Phillies in 2008 and thinks he can recreate the same ending in Los Angeles after his most recent trade.
"We had a lot of balance and depth in the lineup and we have that here too," Blanton said. "There's quality starting pitchers and a solid bullpen. I think balance is a key to a championship team and I think we have that here."
Of course, solid role players with championship experience can only take you so far. Championship teams need supremely talented players who come up big when the team needs them most, and that's where a player like Ramirez comes into play.
Ramirez hit a walk-off single to score Matt Kemp on Sunday and has already shown he can provide the kind of excitement this team hasn't seen since another Ramirez was making clutch hits late in the season.
"For me right away with Hanley I see life," Mattingly said. "I see energy in the body, I see energy in the bat, I see speed. … He's been a real good fit for us.
"With Hanley you get a guy along the lines of Matt. There's power there, there's speed there. He just gives us another one of those guys. They don't come along often."
The difficulty for Mattingly now is molding all these new players with differing roles, personalities and egos into one championship team come October.
"It hasn't been tough yet. I guess it has the potential of being tough for guys that you don't know," Mattingly said. "I think the advantage I have with the guys who have been here is I knew most of them as the hitting coach. With Hanley coming in with Shane, Brandon, Randy and Joe, it's new relationships. It's a matter of getting to know them, getting to know their personalities and what kind of attention they need. Some guys are good and do their work and other guys you need to make sure they're OK. It's just a matter of getting to know the guys."
The fact the Dodgers are seeing new talented faces walk into a clubhouse now is a welcome change for many of the players who haven't had much to be excited about or to play for this time of year the past two seasons.
"What a change and what a relief to be a part of an organization that is operating this way," Andre Ethier said. "We now know we're going to do whatever it takes to win."