GLENDALE, Ariz. -- At first glance, Todd Coffey doesn't look much like a major league pitcher. He carries a few extra pounds, most of it concentrated around his midsection, with a scruffy, reddish beard to go with it, presenting a picture of the proverbial Joe Sixpack in a Dodgers clubhouse mostly populated by Joe Sevenfigures.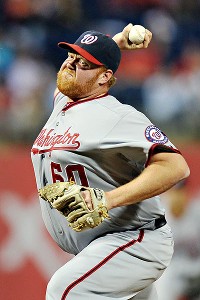 Drew Hallowell/Getty Images
Veteran reliever Todd Coffey signed a one-year, $1.3 million offer with the Dodgers earlier this month.
He didn't look much like a major league ballplayer 14 years ago, either. That was when Coffey, then a 17-year-old who had just graduated from Forest City High School in North Carolina, was taken by the Cincinnati Reds in the 41st round of baseball's amateur draft.
In those days, when a team maintained exclusive signing rights to all of its draft picks for 11 months, a common practice in the lower rounds was to take players as "draft-and-follows." That meant drafting a player with no intention of signing him immediately and continuing to scout him as he played junior-college ball the following spring, then making a decision whether to sign him. If the team did sign him, it usually meant he was an "organizational'' guy, there to fill out the roster of one minor league affiliate or another, with little to no chance of ever playing in the majors.
That was the way DeJon Watson, the Reds scouting director at the time, viewed Coffey.
"We liked his arm and his size," said Watson, now the Dodgers' assistant general manager in charge of player development. "He had some projection to play. But in our mind's eye, he was a draft-and-follow. We wanted him to go to a juco."
But there also was another draft rule in place then: you had to make at least a nominal, if half-hearted, offer to every player you drafted. So Watson authorized Steve Kring, the Reds' area scout who had recommended Coffey, to offer Coffey something he was certain the big right-hander would turn down, a $1,000 bonus and an $850 monthly salary in the low minors.
But Coffey accepted it.
"For me, it was about getting to the big leagues,'' said Coffey, now a seven-year veteran reliever who signed with the Dodgers earlier this month, accepting a one-year, $1.3 million offer. "That was the goal. The way I saw it, I had two choices. I could go to college and spend three years learning to play the college way, then get drafted and spend several more years relearning how to pitch in the majors before I got there. Or, I could go to the minor leagues and learn the major league way right away.
"For me, it was a no-brainer.''
For Watson, it was something else.
"To be honest, I was kind of shocked,'' Watson said. "Steve Kring called me to tell me, and I told him to put Todd on the phone. I tried to explain to the kid about the draft-and-follow process, but he was determined he wanted to sign. I had already used up my entire draft budget. I mean, I was at zero. So I had to go back and ask for another $1,000 just so I could sign the kid."
#60 RP
Los Angeles Dodgers
2011 STATS
And with that, Coffey, who wouldn't even be old enough to vote for another three months, packed his bags and headed off to Billings, Mont. Because Coffey wasn't one of their valued prospects, the Reds sent him to the Pioneer League, which consists mostly of players newly drafted out of college -- guys at least three, and in many cases four, years older than Coffey. Coffey didn't even get into a game until the end of the season, sneaking in two starts and a relief appearance after several weeks of one-on-one tutelage on the side and living with a host family in a city 2,000 miles from home on a meager salary.
"It was all about the learning experience for me,'' Coffey said. "It was tough. People talk about how much money baseball players make, but a lot of people don't know about the hardships ballplayers have when they're in the low minors, trying to work their way up. You don't make a lot of money. And it's tough to get a job in the offseason because who is going to hire somebody when they know they have to leave after a few months?''
Coffey, now 31, said he got a lot of financial help from his parents, who were supportive of his decision to go directly into pro ball. His goal at the time, he said, was to reach the majors in four years. It actually took him seven, but he got there, and has mostly stayed there. He now has a 4.08 ERA in 438 career relief appearances over seven seasons with three clubs, most recently the Washington Nationals, for whom he had a 3.62 last year.
Would he have ever reached the majors if he had gone to college, either to a juco as the Reds wanted so they could still sign him the following spring or to Clemson University, which was one of several four-year schools offering at least a partial scholarship?
"No,'' he said. "I just don't think I would've learned the right way to go about the game. Not to take away from college programs, but college programs have to win now. When you're in the minor leagues, you can get your butt kicked and get your brains beaten in. You learn how to deal with failure. I'm a firm believer that you have to be broken all the way down before you can really build yourself up."
And Coffey has built himself all the way up, from a low-round draft-and-follow into a bona fide, major league pitcher, one who brings a veteran presence and a fun persona to the mound -- he likes to sprint in from the bullpen at top speed, bringing his 6-foot-4, 240-pound, everyman frame with him.
Coffey still has a lot of Joe Sixpack in him. But now, he's a Joe Sevenfigures, too.
"This kid wanted an opportunity to go play,'' Watson said. "He felt like his skill set was good enough to compete with anybody. That is where the makeup and the character of a player comes in. That is what you look for. Some players want their money up front (as a signing bonus). He always felt like he was going to get his on the back end. He figured if he did what he was capable of, he would get his money down the road.''
For his part, Coffey said the humble beginnings make it all the more gratifying that he not only reached the majors, but established a foothold there.
"When I was drafted, I was 100 percent sure they didn't think I was a prospect,'' he said. "I had to prove myself. For every good game a prospect had, I had to have five. But I have always been motivated by people telling me I couldn't do something.
"I had to earn everything I have gotten. I haven't been given anything in this game.''