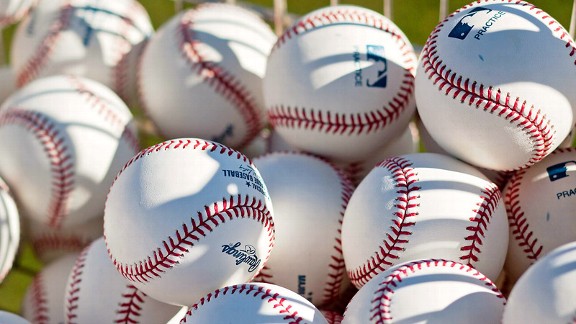 Allan Henry/US Presswire
April 29, 2009.
That was the last day I blogged as a Dodgers beat reporter. It's a little like riding a bike, this baseball-blogging thing, but then, it isn't. My editors and I agreed the best way to launch this one was with an introductory post, but I also remember that the best posts are the spontaneous ones, and you'll be reading a lot of those, too, as we move forward.
This blog is, in effect, a continuation of the Dodgers blog that appeared on this web site for the past two years, the one that was manned so capably by my friend and colleague Jon Weisman, who has been doing a remarkable job blogging about the Dodgers since before I even knew what a blog was. Jon is a baseball-blogging legend in this town, and I know better than to try to copy what he did.
What you will get here is a steady dose of my voice, my thoughts and my observations. That, I have come to believe, is one of the most important elements of a blog like this, right up there with content: developing a relationship with the audience, and while that will take time, especially with those of you who weren't regular visitors to my previous blog, it will happen with your help.
I want this blog to be as interactive as possible. I welcome your comments. I welcome your questions and will try to answer the majority of them. Mostly, I welcome your participation. You will get to know me, and I hope to get to know you as well.
What you can expect to see here is a mishmash. Almost all of it will be Dodgers-related, although I hope you will forgive (and perhaps even enjoy) the occasional non-baseball aside. Some of it will be news, some will be based on interesting things or moments I observe, and I will try to take you on a regular basis to those places you can't otherwise go, such as the clubhouse, the field, the dugout and all those little corners of the ballpark where fascinating stuff takes place. If Matt Kemp says something funny or Don Mattingly has a celebrity guest in his office or Vin Scully stops by the writers' table in the dining room to spin a good yarn, you might read about it here.
In short, this will be a source of all the information you need to know about Dodgers.
Mostly, though, I want this to be fun. The reporting on the main site is formal. A lot of what appears on this blog will be informal. Conversational. And, given, my Arkansas roots, perhaps even a bit folksy, with the occasional Southern colloquialism thrown in.
So in that spirit, I would like to officially launch this blog by inviting y'all to come on in and set a spell. It's been a long time, hasn't it?