HOLLYWOOD, Calif. -- For the past four years Francisco "Chico" Herrera has carried equipment bags, packed and unpacked lockers, polished spikes, washed cars, manned the foul lines at Dodger Stadium, and organized the bats and helmets inside the Dodgers' dugout.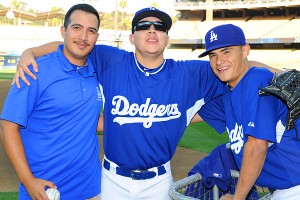 Jon SooHoo/LA Dodgers
Francisco Herrera, right, stands with fellow Dodgers bat boys Sergio Garcia, left, and Javier Herrera before a 2010 game.
His job description goes something like this: If a player needs something, he gets it. It is thankless, detail-oriented, unglamorous work.
Herrera is a bat boy. And until a few months ago, it was the greatest job in the world.
"It's awesome, there's nothing better," he said earlier this week. "I'll never forget the first time I saw them come off the bus outside the stadium. I was 18 years old, my first day on the job, and their bus came in the lot from spring training. I saw 'em, and they were so tall. I'd never seen them up close. They all gave me handshakes and stuff. I was just speechless. It was the best day of my life."
It's hard to know when the next "best day of your life" might be coming, but if things go as Chico hopes Thursday in Arizona, he'd be hard-pressed to top it.
What's so special about Thursday?
That story begins six months ago during a batting practice at Dodger Stadium. For years, Dodgers players have commented to him that he had a good arm or made some good, athletic plays while they were shagging fly balls during batting practice. Herrera took the compliments in stride. He'd been the best player on his team at Hollywood High and was now the starting shortstop at Valley College in North Hollywood. But what did that matter out here on a big league diamond?
This time one Dodger went a step further.
"Jon Garland and I were playing catch in the outfield," Herrera said. "He was hurting at the time, but he could still play catch and he's like, 'You really do have a good arm. When are you going to try out?'"
Try out?
"He was like, 'Let me talk to De Jon for you [De Jon Watson is the Dodgers' assistant general manager for player development]. I'll get you the tryout, but if you make it, I get to represent you.'
"I thought he was kidding."
But a week later, after the Dodgers returned from a trip, Garland told Herrera he was invited to the team's open tryout the first week of March in Arizona.
"I went up to De Jon in the clubhouse and he was like, 'Yeah, when are you coming out?'"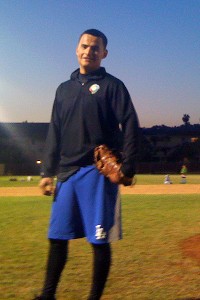 Ramona Shelburne / ESPNLosAngeles.com
"Chico" Herrera was recognized by Dodgers players, and Jon Garland encouraged him to try out for the team.
It's a long shot, of course. No, longer than a long shot. But Herrera will take his chance on Thursday at the Dodgers' open tryout in Glendale, Ariz., because he's never had any shot at all before.
And Watson is happy to offer it because, well, you just never know.
"We've signed guys out of our tryout camp every year," Watson said. "Last year we found a guy throwing 97 and it was like, 'Yeah, we're going to sign him.'" So this isn't some publicity stunt to deflect attention away from whatever embattled owner Frank McCourt has last stepped in. This isn't an attempt to get fans to buy tickets to watch the tryouts.
"I don't know much about this kid except that Jon Garland flagged me down in the clubhouse last year," Watson said. "I've seen him down the foul lines, he makes some pretty good catches." (Such as this marvelous one last season.)
"You watch him in BP and he's out there power-shagging in the outfield. Like, 'Who is this kid?'
"So yeah, we'll take a look at him. You never know. Guys change, they mature, they grow. You never know until you take a look at him."
Finding a future major leaguer from an open tryout is rare. Former Dodgers catcher Rod Barajas got his start with the Arizona Diamondbacks that way. And of course there's the story of Tampa Bay Devil Rays pitcher Jim Morris, whose story was brought to the big screen in the 2002 film, "The Rookie."
Cary Cauley, who coached Herrera at Hollywood High and has been helping him prepare for the tryout the last few months, said his former player has always had a great work ethic.
"And it's not because he always thought he was going to make it," Cauley said. "It's just, that's the kind of kid he is."
Cauley said Herrera hit well over .300 every year of high school ball and developed into a slick-fielding, strong-armed shortstop. His junior year he hit .423 with 30 stolen bases. As a senior he hit over .500 and was top-three in the City Section in stolen bases.
"He's pretty legit. He's quick, so he's got a lot of range. And he has the best arm in high school that I've seen in a long time," said Cauley, who was an all-league player at La Habra High in the mid-1990s. "Out of high school, he could've played Division I baseball. But he's gotten a lot better since then."
If that was so, why didn't he?
"We're considered inner-city baseball; nobody really comes to these games," Cauley said. "They don't come here because, as you can see, we play on a football field that only becomes a baseball field the first week of our season. We have zero budget, no paid assistants; when he first got here we didn't even have uniforms."
Cauley isn't complaining. This is just reality. Eight months out of the year the baseball field is also the school's football field. During that time, the baseball team takes grounders and fly balls on the tennis courts. And forget batting cages.
While creative types like Herrera can teach themselves to switch hit by hitting a "tape ball" in their front yard, the lack of resources is harder for others to deal with.
Some of the brightest stars in Hollywood might flock to the Roosevelt Hotel, which towers above the baseball field in the distance. Tourists take pictures along the Hollywood Walk of Fame two blocks away. And nearby, the historic El Capitan Theater is packed most nights.
But the baseball field on campus is a world away.
"The biggest problem I've seen here is that any kid with talent gives up pretty quick because they haven't seen people go on with it," Cauley said. "They aren't seeing kids around them go on to college or play in the minors; he's the first. He's the example we give to everyone who plays for us."
Cauley's assistant coach, Billy Hall, knows all too well how rare this opportunity is.
"This doesn't happen every day," said Hall, who pitched in the Astros' organization from 1994-98 before a shoulder injury ended his career. "But this kid deserves it. He's the only guy I've ever called a coach for." Hall said he called the coaching staff at Valley College on Herrera's behalf.
Herrera may not get a contract out of this. If you see him working the third-base line again this spring, that'll be confirmation. If that's the case, he's at peace with it. Being a bat boy is still the greatest job in the world.
It'll just be nice to swing his own bat. It'll be nice to have a real shot.
"I still can't really believe it," Herrera said. "I'm just going to go out there and try to do my best."