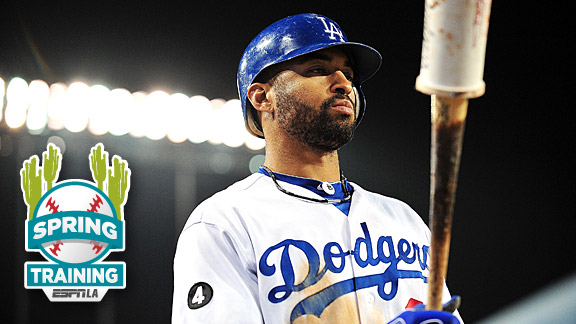 Gary A. Vasquez/US Presswire
My intention when I sat down was to write one a typical spring-training preview, with the five questions. But then, I quickly realized that in this most unusual of springs for the Dodgers, there simply aren't five questions.
Fact is, in all my years of covering Major League Baseball, I can't recall a spring training that began with a team's Opening Day roster as close to being set as the Dodgers' is this spring -- that is, until the inevitable spring-training injury occurs, and I also can't remember a spring that didn't feature at least one of those.
Because the Dodgers are in bankruptcy and up for sale, and because the player payroll is being slashed to $90 million as a result, and because general manager Ned Colletti had so many holes to fill, Colletti filled as many of them as he could as quickly as he could, essentially rendering the team set before the holidays. Oh, there was one opening in the bullpen, but that was siphoned off a couple of weeks ago when Colletti added a late free-agent signing in veteran Todd Coffey.
But the usual five questions can be reduced in the case of the 2012 Dodgers to one question: Who will get the final roster spot?
Simple logic would suggest it will be an outfielder, with second-year big leaguer Jerry Sands the clear favorite. But there are a lot of factors that could lead to Sands beginning the season in the minors, and there also are a few factors that could lead to that final spot going to an additional infielder, most likely second-year big leaguer Justin Sellers.
First of all, if Sands is on the team, it's going to be, at best, in a part-time role -- not exactly ideal for arguably the organization's top offensive prospect. Matt Kemp and Andre Ethier are cemented in center and right, respectively, and that means Tony Gwynn and Juan Rivera already are having to share time in left before you even add Sands to the conversation.
Sands' 61-game audition as a rookie was a mixed bag -- .253 average, four homers, 26 RBI, .338 on-base percentage and a strikeout every 4.5 plate appearances overall, but he batted .342 with a .415 OBP in 20 games during his final callup in September. A little more seasoning certainly wouldn't hurt him, especially if it means starting and getting four or five trips to the plate every night.
Furthermore, keeping Sellers instead of Sands would give manager Don Mattingly added flexibility on what is clearly going to be a mix-and-match team, and here's why: Sellers can play shortstop. Of the other two utility infielders, Adam Kennedy can't and Jerry Hairston can but hasn't with any frequency in two years. That means without Sellers, the main backup shortstop is Juan Uribe, who also happens to be, for now, the everyday third baseman.
As good as Dee Gordon is, asking a guy officially listed at 5-feet-11 and 150 pounds to play every inning of every game of a major league season at shortstop is a little much. And even if you move Uribe there to give Gordon an occasional day off, you're still talking about a lot of musical chairs.
By keeping Sellers, you're still covered with a fifth outfielder because Hairston can play out there if needed. Sands has the added versatility of being able to fill in at first base, but so does Rivera.
So that's my big upset special prediction going into camp: Sellers makes the opening day roster, Sands doesn't, and when Sands does inevitably get called up sometime in May or June or August, the extra time in the minors will leave little doubt this time that he is ready to play in the major leagues.