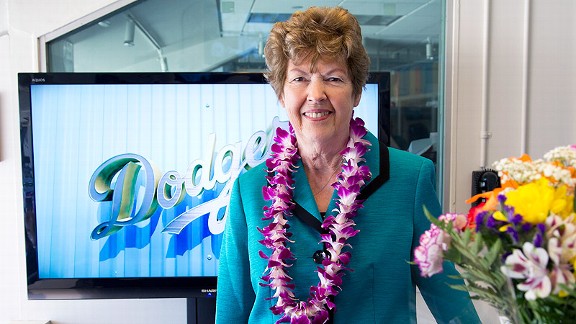 Paul Spinelli/MLB/Getty Images
Nancy Bea Hefley was hired as the Dodgers' organist before the 1988 season.
There's a bit too much baseball left to make plans for the offseason. Not that Nancy Bea Hefley ever knows quite what to do with herself in the offseason anyway.
A love of music brought her to Dodger Stadium 25 years ago. A love of the game has kept her coming back.
She has missed eight games along the way; each was one too many.
"They wanted someone who would stick around for a while," Hefley said recently of her hiring as the Dodgers' organist before the 1988 season. "But I don't know if they meant this long."
Hefley was hired to replace Helen Dell, who retired after the 1987 season, and has since become a fixture at Dodger Stadium. As much a part of the fan experience as Dodger Dogs and eating frozen chocolate malts with a wooden spoon.
Players adore her. Fans ask for her autograph. It all thoroughly embarrasses her. She doesn't see herself that way.
"I don't really think of people knowing me that much," she said. "I'm fortunate to have a good job."
Ah, but people do know her. Players too. Matt Kemp has practically adopted her. Juan Pierre used to run in from wherever he was any time she ventured down on to the field.
I suppose this story could have been written at any point along the way these past 25 years. But 25 years being a nice, round number and also the last time the Dodgers won a World Series, the time seemed right, with the team in its final homestand of the regular season.
Barring a miracle finish to this season, Nancy Bea's first year on the job will remain her only championship experience for at least another year.
"I kind of hoped that some place along the line that we'd get another one," she said of the Dodgers' title. "It looked like this year we were headed that way but ... "
But this isn't a story about wins and losses.
It's about what songs have been playing at the stadium during those wins and losses, and the woman who has been playing them.
Last weekend, she planned to play Nat King Cole's "Our Love Is Here to Stay" for the Colorado Rockies, "because of the line, 'In time the Rockies may crumble.'" If all goes well, it will be "I Left My Heart in San Francisco" for the San Francisco Giants.
" 'San Francisco, Open Your Golden Gate' will probably be the first song I play for the Giants. But if we win the first night, then I might do, 'I Left My Heart in San Francisco.' But I won't do it if we lose.
"[Giants broadcaster] Duane Kiper is always asking me to play, 'I Left My Heart in San Francisco.' and I said, 'If you lose, I'll be happy to.' "
Yes, Nancy Bea Hefley is not above a little trash talk.
It takes a while to realize how much thought goes into what she chooses to play. How much meaning is in the lyrics you have to hear in your head as she plays the music on her organ.
In 1988 she started playing "Master of the House" from "Les Miserables" when the umpires were being introduced before the game. People loved it. Vin Scully came up to her and told her to play that song more often.
Once she played it on a night that Orel Hershiser was pitching. And he pitched so well that year, superstitiously she kind of had to keep playing it.
"I love 'Master of the House,' " she said. "But since it became pretty much his song, I can only play it if he's around, otherwise people will go, 'Is Orel here tonight?"'
When Hershiser comes back through as a broadcaster, Hefley plays it for him.
You wonder how many people notice. Then you wonder how many other stories she has just like this.
Before this job, she played at horse shows all over the country, worked temp jobs and raised four kids. She has been playing the piano since she was 4 years old.
Her husband of 55 years, Bill Hefley, accompanies her to everything. He drives her to most games, has dinner with her in the press room, then sits up in the club level while she works. They leave after she plays "Take Me Out to the Ball Game" in the middle of the seventh inning. This year they are staying in a condo in Yorba Linda with one of their children.
He comes to the park each night to spend time with her, to look out for her. Baseball might have been his first love, but she has been the love of his life.
"It's just something we've worked very hard at keeping," she said of her marriage. "It hasn't been easy. But both of us were determined to make it work."
She used to play much more than she does now. The full game, not just during pregame warm-ups and Dodgers pitching conferences and changes.
But the times changed a few years back. People wanted a DJ who would play more modern music. It was nothing new. Changes like this were being made all over the country.
Nancy Bea was smart enough to sniff it out. So in 2005 she tried to retire instead of having her role cut back so deeply and eventually phased out. She and Bill bought land outside Carson City, Nev., near a lake so Bill could fish more often.
But the game was still in her blood. She ended up playing three games for the Triple-A Iowa Cubs and realized she was never going to be done with it.
She said Drew McCourt -- son of former owner Frank McCourt -- who ran this end of the franchise, implored her to stay on.
"Drew McCourt called and basically said, 'Please don't retire. ' I said to myself, 'What do you want? Do you want to get all upset about it? Or do you want to continue playing?'"
Fortunately for all of us, she just signed a three-year extension. Like Scully, whenever she does decide to retire, it will be on her terms. She has been a part of this place long enough to have earned that right. A part of the stadium, a part of going to a game, a part of the franchise.
A constant. But while you love her for her consistency, it never would've worked if she didn't change along the way. Instead of fighting the addition of a DJ, she came to embrace it.
"I try to get a little more balance for people," she said, smiling. "Because in case you haven't noticed, I'm into show tunes."
Believe it or not, she's also into Twitter and Facebook, uses an iPad, iPhone and a desktop computer and text messages like a college kid.
"I've always kind of been a computer geek," she said. "I've been working with computers since they ran on DOS."
It was charming and surprising to hear her speaking like this, to picture her programming computer code behind a desk, as focused and as happy as she is behind an organ.
But you get the feeling this is how she has lasted all these years, changing in all the right ways with the times without changing who she is. It is a fine line to walk. Very few of us could make it on our own. Nancy Bea Hefley has done it while playing a song.