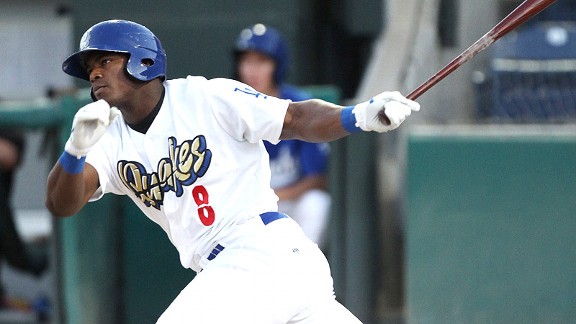 Larry Goren/Four Seam Images/AP Images
Yasiel Puig hit .327 for the Rancho Cucamonga Quakes this summer.
CAGUAS, Puerto Rico -- On the day Cuban baseball player Yasiel Puig left his country, it didn't cross his mind that his future would be secure, at least financially. Having never stepped onto a major league baseball diamond, he didn't settle for accepting the fortune he received.
The Los Angeles Dodgers bet on the abilities of the fiery outfielder, signing Puig to a seven-year, $42 million contract in June, four months after his countryman Yoenis Cespedes signed with Oakland for four years and $36 million.
Puig, who hit a home run in his first at-bat for the Mayaguez Indios in Puerto Rican Winter League baseball in mid-November, hasn't lost sight of his reasons for playing in Puerto Rico.
"I am here to improve on my batting, since it had been two months since I had batted due to the elbow surgery I had," he said. Puig had surgery in September to clean out a staph infection in the back of his right elbow.
"I now feel ready to work here in Puerto Rico, and that's why I came," he said. "I've come to improve on everything -- my batting, fielding, discipline -- since my objective is to get to spring training and the major leagues next year."
Puig said "the only pressure I feel is that I have to do it better in the major leagues, like my compatriots Cespedes and Alexei Ramirez. Do something like them … to justify that they [the Dodgers] didn't give me that money for fun."
Puig, who just turned 22, defected from Cuba in mid-May. He established residence in Mexico and became a free agent in order to fulfill his dream of playing professional baseball in the United States. An emotional Puig said he misses his family in Cuba, "but I came to play ball here so that they can feel good and I can feel good about playing in the major leagues."
Puig played in the Arizona Rookie League and at Single-A Rancho Cucamonga this past summer, with batting averages of .400 and .327, respectively.
"It went pretty well for me in Rancho, although I wasn't able to go on to other leagues because of the elbow injury," he said. "I am all right now, preparing for spring training, and if God wants it and allows me, I will do everything possible to be at Dodger Stadium."
When asked about his expectations for playing in the majors in 2013, he said, "I plan to be there next year."
"But it depends on what I can bring to the field," he added, "and the things I can do. After that, my bosses will decide when they meet next year to put together the team."
The 6-foot-3, 235-pound outfielder said his game is developing well in Puerto Rico.
"Everything is working fine, just as my trainers in Arizona and those on my team were hoping," he said. "The only thing I'm finding hard is getting a hang of the timing because of the time I was out."
Puig, who is on the Dodgers' 40-man roster and thus was protected from Thursday's Rule 5 draft, said he's received great support from Cespedes and another fellow Cuban, Aroldis Chapman.
"We all support each other, even though we may not see each other all the time since we play on different teams. But we are all proud of being here," Puig said. "Right now, we are very proud that Cespedes reached 100 hits this year and everything went very well for him.
"I hope that happens to me next year, starting from here in Puerto Rico, so that I can get what I want."