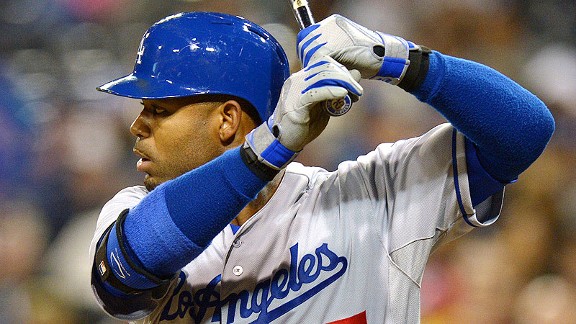 Jake Roth/USA TODAY Sports
Don Mattingly isn't particularly surprised that Carl Crawford is off to a fast start. For one thing, there's the "start" part of that. In a few months, nobody is going to remember that on April 18, Crawford was batting .375.
Nor is Mattingly surprised that Crawford seems to be playing with more freedom, more joy, since being freed from a highly uncomfortable situation in Boston. Mattingly played in New York. He saw how some players reacted to those high-stress markets.
But what has been a surprise, a pleasant one, for Mattingly is Crawford's approach. Always a free swinger, Crawford has been more selective for these first few weeks. His batting average probably isn't particularly telling, but few would have expected a .426 on-base percentage from him at this point of the season, or really any point of a season.
"He's been better than I remember from back in Tampa," Mattingly said. "He's definitely not up there swinging wildly."
He's probably been better than his numbers indicate, in fact. Crawford hit two balls in the last series that would have been easy home runs at virtually any other ballpark or during the day at Dodger Stadium. Gale-force winds knocked one down and cool air knocked another down just shy of the wall.
But will Crawford's newfound patience last? Dave Cameron has an interesting discussion on the matter at Fangraphs and suggests that, indeed, it could represent a meaningful shift in Crawford's game. Analysts have found, Cameron says, that small sample sizes tend to be more reliable when measuring a player's approach than when measuring a player's output.
"You can get a pretty good gauge of a hitter's approach at the plate in a few dozen plate appearances, because these metrics are measuring things with very few outside variables," Cameron says. "Hitters are very consistent in how often they swing and what kinds of pitches they swing at."
Cameron opines that Crawford has "always been a fantastic all-around player if you could overlook his plate discipline," and wonders -- if this keeps up -- whether "the Adrian Gonzalez trade might just become the Carl Crawford trade."
If Crawford can continue to get on base at a high rate, the leadoff spot could be the least of the Dodgers' concerns. It's a crucially important trend for the Dodgers' chances.
Crawford has swung at 40 percent of pitches he has seen, way below his career average, which is over 52 percent. He has swung at just 21.7 percent of the pitches he has seen out of the strike zone, another dramatic improvement of his career rate and well below the league average.
In Crawford's down seasons in Boston, he was particularly undisciplined, swinging at around 38 percent of balls in both 2011 and 2012. Those rates were the highest of his career.
"I know the past few years, I just swung at everything, I just felt so out of whack at the plate," Crawford said. "I just tried to swing at everything to get out of this two-year slump I was in. Now, I'm more calm and getting ready a little earlier, which helps recognize the pitches a little bit earlier. I think that's probably what you guys are seeing."
Where Cameron sees an effect, Crawford sees a cause. He said he has made no conscious effort to see more pitches, but a mechanical tweak -- he has squared his stance a bit from the wide-open look he used in Boston -- and a new sense of calm have been crucial factors, Crawford said. It also probably doesn't hurt that he has a better relationship with Dodgers hitting coach Mark McGwire than he did with Boston hitting coach Dave Magadan.
McGwire and Mattingly have been on a mission to instill more discipline in this Dodgers lineup.
"I'm just trying to hit my pitch, I think. The last two years, I didn't know what my pitch was," Crawford said.