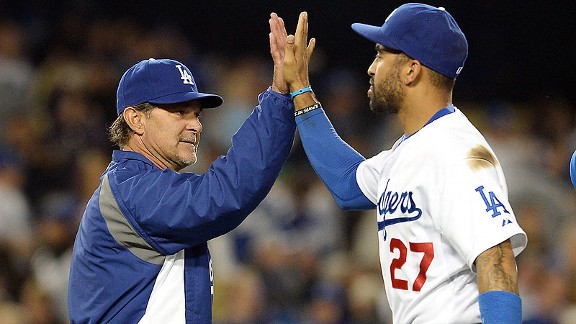 Jayne Kamin-Oncea/USA TODAY Sports
LOS ANGELES -- One year ago today, Guggenheim Baseball Management completed its purchase of the Los Angeles Dodgers, ending the dreary Frank McCourt era and suggesting better things were in the offing.
In 12 months, the new owners delivered on their promises, spending lavishly to improve the major league team, updating glorious but faded Dodger Stadium and plucking experienced scouts from other teams' payrolls to help rebuild a minor league system McCourt had let fester.
The work isn't done, but it's off to a flying start. In the coming months, according to team president Stan Kasten, the Dodgers hope to polish off a humming -- and free -- wireless service in their stadium and to continue trying to coax MLB into awarding them an All-Star Game at some date after the 2016 game in Cincinnati.
Practically the only thing the Dodgers haven't done -- and, it sounds like, they don't plan on doing any time soon -- is to show everybody how delighted they are with the leadership they're getting in the dugout.
While they say they are happy with manager Don Mattingly's performance, he continues to work in the final year of his deal with a 2014 option.
Just down the freeway, Mike Scioscia -- whose Los Angeles Angels are off to a far drearier start than the Dodgers are -- is locked up for another five years. The Dodgers' arch rivals, the San Francisco Giants, just extended manager Bruce Bochy through 2016.
So, why won't a team that gave a pitcher who is currently injured, Zack Greinke, a six-year commitment lock up its manager and end all doubt about its primary baseball voice for coming seasons?
According to Kasten, it's the wrong way of looking at it.
"The team has its option some time next fall. What's wrong with just leaving it at that?" Kasten said. "The answer is nothing and it's stupid to suggest otherwise. If he had a 10-year contract, but we weren't happy with his performance, he wouldn't be here next year, because they're unrelated."
One of the main owners, Mark Walter, told the Los Angeles Times in February that the team has had discussions with Mattingly about a new contract and Kasten said the team has continued to communicate with Mattingly in the interim. But it certainly looks as though they are reserving their right to abruptly change direction.
Mattingly has said he asked that his 2014 option be picked up in part so it's not a distraction for a team, with a record payroll, that has plenty of others already. So far, there are no indications it's bothering his players, who have gotten off to a 13-13 start under a steady stream of injuries, but there are plenty of indications they'd like to continue playing for Mattingly.
His fate, it certainly seems, is in their hands.
"Hopefully, guys play hard just because you should play hard, but we like playing for Don," said second baseman Mark Ellis. "Everyone in here likes playing for Don. He gets it and that's refreshing. He knows how hard the game is and, if you give an effort, he's going to respect you and he'll do whatever he can for you."
Are they even aware of his contract status?
"Obviously, we are, but we don't let that affect us. It's Don Mattingly, man, we respect him," said utility man Jerry Hairston Jr.
Teams that underperform tend to get decisions made for them, rather than by them. Should the Dodgers falter this season, they could find the next manager to be far less to their liking.
"Most of us have been around long enough. If we win, usually everybody's back," Ellis said. "That kind of takes care of itself. You look at teams who win, everybody's happy."