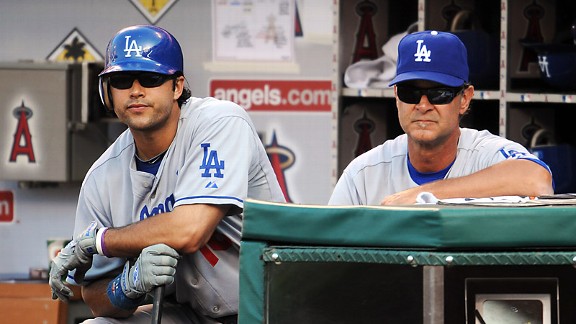 Jayne Kamin-Oncea/USA TODAY Sports
Andre Ethier was the first player Ned Colletti traded for. He was the first player the Dodgers' new owners made lavishly rich.
When those two elements combined to sign Ethier to a five-year, $85 million extension about a year ago, Colletti said of those owners, "They are all about winning."
Like a lot of things around this team, it takes on a different tint now, doesn't it?
Manager Don Mattingly benched Ethier before Wednesday's game in Milwaukee and implied that the volatile right fielder doesn't always compete as hard as Mattingly would like. The Dodgers have a lot of smooth, stylish players and Ethier certainly fits that description, but they don't have a lot of old-school tough guys. Ethier told reporters after the game that he "takes offense" at Mattingly's comments.
All of which leaves the Dodgers where, exactly?
The problem with giving players long-term mega-deals is that you so often regret them. Nowadays, it usually doesn't take that long. In Ethier's case, the Dodgers probably started having their doubts by about August or September as he was hitting .222 against left-handed pitching -- not atypical of his career.
They watched some solid short-term stop gaps sign with other teams (Torii Hunter, a far better clubhouse presence, is batting .313 with Detroit). By spring training, when Yasiel Puig was tearing up the Cactus League, Ethier's extension had to have become a full-scale regret. Now, with Puig and Joc Pederson both apparently just on the horizon, it appears the Dodgers have little choice but to move Ethier eventually, and that probably won't be cheap.
Let's assume for a moment that Mattingly isn't in the Dodgers' long-term plans or that this rift can be repaired. So, maybe there won't be a personality conflict rippling through the team. Can we also assume that Mattingly's opinion was isolated to his office, or that he didn't have conversations with Colletti or anyone else in the front office before making them?
It's become pretty apparent that Ethier's value to the Dodgers has eroded. Can they get anything for him? Dave Cameron at Fangraphs explores that question in some depth here and concludes that Ethier is basically an average outfielder trending toward part-time player, that his current contract will be a "total albatross" by the fourth year, but that the Dodgers might be able to get some return if they agree to pay $40 million or so of what they owe him. Kansas City, Seattle, Texas and Baltimore have been mentioned as landing spots for Ethier.
Is it worth it to make a move now, when everybody in baseball knows your position, when Ethier (.405 slugging) isn't performing particularly well, and when -- according to the Dodgers themselves -- Puig is too combustible to be a fit just now?
The better course of action might be wait a while -- maybe the trade deadline, maybe the offseason. Perhaps Ethier heats up and elicits more interest. It buys you more time for Puig and Pederson to develop. Who knows; maybe it goes the other way. Maybe Ethier produces, the Dodgers get hot and -- gasp -- they use those two outfielders as bait to add a missing piece at the deadline.
In 2004, everybody in baseball knew the Angels had to trade outfielder Jose Guillen after his famous clash with Mike Scioscia, and GM Bill Stoneman still got a couple of useful players -- Juan Rivera and Maicer Izturis -- off Washington GM Jim Bowden. He made that trade in November, months after the confrontation.
The Dodgers just might have to tolerate a bit of awkwardness until they can make a rational move.