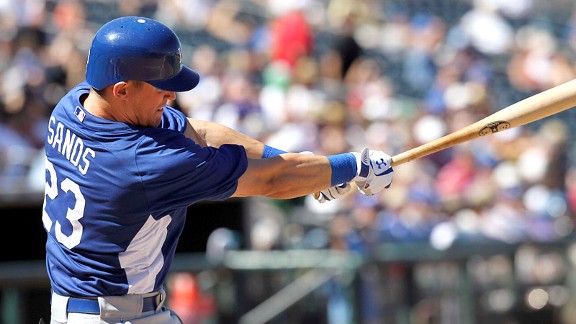 James Guillory/US Presswire
GLENDALE, Ariz. -- In a move that had become increasingly inevitable in recent days, even after he delivered a game-winning, walk-off single in a Cactus League game on Monday, Jerry Sands was optioned to minor league camp by the Los Angeles Dodgers on Tuesday morning at a point when he was hitting .158 for the spring.
The move could clear the way for Josh Fields, a non-roster invitee in camp on a minor league contract, to make the club. The former first-round draft pick of the Chicago White Sox and one-time quarterback for Oklahoma State University is batting .355 this spring with a .412 on-base percentage and is a right-handed hitter with power, something manager Don Mattingly admitted he is looking for in that spot.
"It's going to be a part-time guy who won't play every day, and it's a guy who is going to pinch hit,'' Mattingly said. "So it'll be somebody who kind of fits into that role.''
Mattingly insisted that utility infielders Justin Sellers and Luis Cruz still are in contention for the spot, but Fields is a veteran major leaguer with a track record who hit 23 homers in just 418 plate appearances -- albeit with 125 strikeouts -- as a rookie for the White Sox in 2007.
Sellers and Cruz, meanwhile, have little to no power. Moreoever, Fields can play both corners of the infield, while Sellers and Cruz have limited experience at third base and no experience at first.
When spring training began, the final spot on the Dodgers' Opening Day roster probably was Sands' to lose. But while Sands struggled at the plate all spring -- something both he and Mattingly blamed on Sands trying to apply too many different coaching tips from too many different voices -- Fields, Sellers and, to some extent, Cruz all put up good numbers.
"There have been a lot of people trying to help (Sands),'' Mattingly said. "It's always well-intentioned. But if you have six people trying to help with the things you need help with, the next thing you know you have six different thoughts when you're up there at the plate, even though everybody means well.
"I really feel like it caused him confusion. We really need to simplify things.''
Sands, 24, was the Dodgers' 25th-round draft pick in 2008 and wasn't considered a top prospect until a breakout season in 2010 in which he hit a combined 35 homers with 93 RBI at low Class A Great Lakes and Double-A Chattanooga. He made his big league debut last season, getting called up in April and struggling to a .200 average before a midseason demotion to Triple-A Albuquerque led him to make a mechanical adjustment. He returned in September and hit .342 with a .415 OBP the rest of the season.
Mattingly said he still feels the Dodgers will be a better team with a productive Sands on their roster and that the goal is to get Sands ready to play in the majors again as soon as possible, whenever that happens to be.
"At the end of that day, that is still our best scenario,'' Mattingly said.