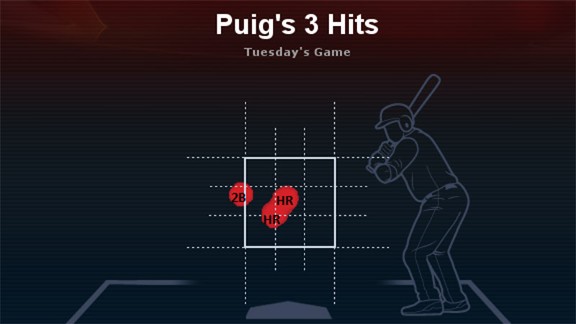 Yasiel Puig showed he could hit mistakes and tough pitches on Tuesday.Remember the great first impressions made by the likes of Yoenis Cespedes, Bryce Harper, Manny Machado and Matt Harvey, among others, last season?
Yasiel Puig has done pretty well for himself in his first two games as a member of the Los Angeles Dodgers.
Notable First Impressions
Other Potential Stars
Puig joined a few exclusive baseball clubs on Tuesday. With help from the Elias Sports Bureau, we can tell you that …
He is the second player in major league history to have a two-homer, five-RBI game within the first two games of his career, joining Dino Restelli of the 1949 Pittsburgh Pirates.
He's the first Dodgers player to have a multi-homer game within the first two games of his major league career.
He is the second Dodgers player ever to have a two-homer, five-RBI game from the leadoff spot, joining Tommy Brown, who did so in 1950.
Through two games, Puig has five hits, a .625 batting average and a 2.125 OPS. If you combine his last 15 Double-A games with his first two major league games, he's hitting .417 with five home runs and 22 RBI within that stretch. And let's not forget spring training, in which he hit .517 with a 1.328 OPS.
What's the biggest impression we can garner from Puig these first two days?
When he swings, he makes it count.
The typical major league non-pitcher this season puts two balls into play for every swing he misses, and typically hits as many foul balls as he hits balls into play.
Puig has taken 11 swings.
They've resulted in only one foul ball, two misses and a whopping eight balls in play (five of which were base hits).
Puig's biggest swing deposited the baseball 443 feet away for his first of two home runs on Tuesday. That was the longest home run hit by a Dodger this season.
The last Dodger to hit one that far was Matt Kemp, who will now have some company in the power-hitting department when he returns from his latest injury setback.