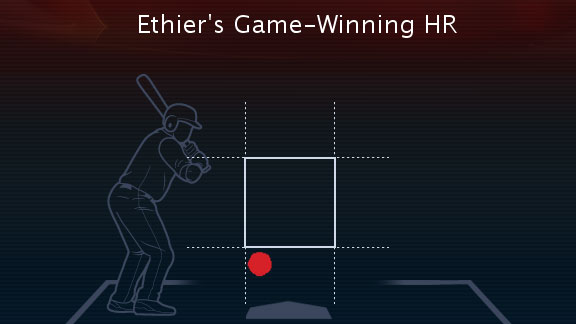 Andre Ethier was able to golf a tough pitch out of the ballpark.
Andre Ethier's penchant for the big home run resurfaced on Friday night.
Ethier's go-ahead homer led to another Dodgers win, their 18th in the last 23 games (tied with the Rays for the best record in the majors since June 22) and extended a noteworthy statistical streak.
Ethier has now hit at least one home run that tied a game or put the Dodgers ahead in the ninth inning or later in each of the last seven seasons.
In 2009, Ethier became known for this sort of thing, hitting four walk-off home runs. He's sprinkled one of the game-tying or go-ahead each in each of the other six seasons, this one against Washington Nationals reliever Rafael Soriano.
He has seven go-ahead homers that late in a game in the last five seasons, tied for most in the majors with Matt Kemp, Adam Jones, Chris Young and Jay Bruce.
Inside the Matchup
This marked the third time that Soriano faced Ethier and the second time that Ethier hit a game-winning home run against him. The first came in 2009, a three-run walk-off shot when Soriano was a member of the Atlanta Braves.
That one was against a 96 mph fastball over the middle of the plate.
This one was a bit tougher, off a slider that dropped below the knees.
In the five seasons for which we have pitch-performance data, Ethier has 12 homers against pitches catalogued as sliders, but this is the only one of the dozen that came against a pitch out of the strike zone.
The slider is a pitch that Soriano has cut back on using in 2013 and there may be good reason for that. He's allowed three homers on the 91 sliders he's been charted as throwing this season. He gave up four among the 440 sliders he threw last season.
Comfort zone
Ethier has had a couple of measures of success this season that may not be easy to explain.
Andre Ethier in 2013
Balls Hit in Air
He's hitting .302 in the No. 5 spot in the lineup and .226 everywhere else in the batting order.
He's also hitting .226 at home, but a solid .311 with a .393 on-base percentage in 44 road games, thanks to a .382 batting average on balls in play.
As the chart on the right notes, Ethier's fly balls and line drives are finding the right spots.
On Friday night, the right spot just happened to be out of the ballpark.