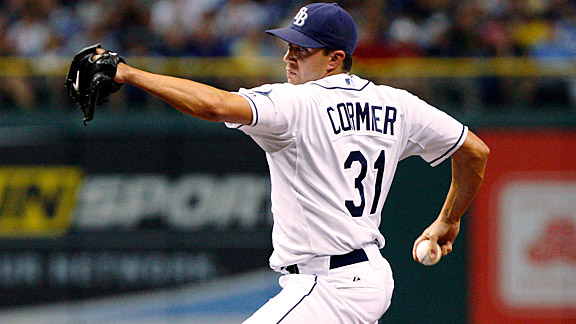 Kim Klement/US Presswire
In the past three seasons, Lance Cormier has allowed a sub-.700 OPS against left-handed batters, including 26 extra-base hits in 486 plate appearances.Outside of the left-field conundrum, the Dodgers' biggest question mark for Spring Training might be how they will address the task of getting left-handed batters out with their almost completely right-handed bullpen. No one wants to see Hong-Chih Kuo relegated to facing only lefties, and the only other left-handed thrower on the 40-man roster is the uncertain Scott Elbert.
Three non-roster invitees to major-league camp are left-handed: 39-year-old Ron Mahay, achy-hamstringed Dana Eveland (whose career 5.74 ERA will apparently be sidelined for weeks after Thursday's injury) and Wilkin De La Rosa, who has never pitched about Double-A. After that, you start dipping down into the minors for developing players like James Adkins.
With Ronald Belisario's absence seemingly opening up a roster spot, Mahay would seem to be the default candidate. He had a .520 OPS allowed against lefties last season. But the previous two seasons, his OPS allowed against lefties was above .700 — which isn't terrible, but isn't exactly the kind of authoritative performance you're looking for when you really want someone to come in and get that guy out.
I got to wondering if there were any righties among the Dodger relievers who were reliable against lefties. Here's a chart of the bullpen candidates' OPS allowed against lefties over the past three seasons in the majors:
Some observations:
The Dodgers have a few righties who seem consistently effective against their opposite numbers: Jonathan Broxton, Matt Guerrier and, based on a small sample size, Kenley Jansen.

Oh, and another guy who probably isn't on your radar ... late signee Lance Cormier.

Based on only his one season, Carlos Monasterios offers an intriguing first impression — though looking at the chart, you can see how much these numbers can fluctuate. Look at what happened to Ramon Troncoso, for example, or moving in the other direction, Vicente Padilla.

For extreme small-sample candidates, there's Roman Colon and Travis Schlichting. Consider at your own risk.
If the Dodgers decide that Kuo, Broxton, Guerrier, Jansen and Padilla are all effective against lefties, they could decide to go without a second left-handed pitcher — especially if they also think Cormier is worth a roster slot. It might still be Mahay's spot to lose or Scott Elbert's spot to win, but Cormier might be this year's guy you least expected.