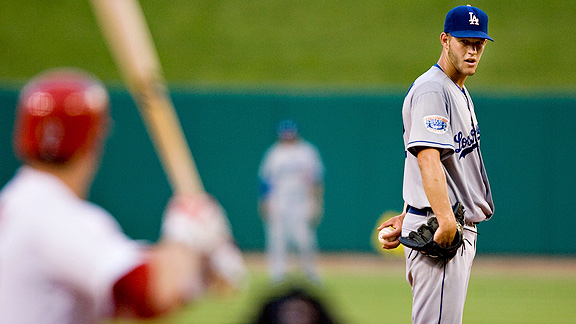 Dilip Vishwanat/Getty Images
Clayton Kershaw has struck out more batters before his 23rd birthday than any other Dodgers pitcher since Fernando Valenzuela.Clayton.
Nope, not quite.
Kershaw.
Nope, not that, either. Not yet.
He's not a Fernando or a Sandy. Not even a Piazza or (for that brief, baggage-heavy moment) a Manny. He's not a "Bulldog" or a "Game Over."
He's still a plain old guy with two plain old names, with a humble personality to match -- a wolf in sheepish clothing.
If you say Clayton Kershaw is the best player on the Dodgers, you won't necessarily get an argument, but you might get a shrug. With disappointment still dripping from the team's 2010 season, "best player on the Dodgers" won't earn you much more than a patronizing pat on the head, maybe an extra juice box after practice. For now, anyway.
Sometimes it happens practically overnight, the way it seemed to with Fernando Valenzuela and Mike Piazza. Other times -- more often, really -- it's years in the making, as with Sandy Koufax, Orel Hershiser and Eric Gagne.
Either way, there's an explosion within reach for Kershaw -- oh, you better believe there is. He turns 23 on March 19, and soon after, he might turn Dodger Stadium back into a place where fans are racing through the crowds for their seats, the way they did for those transcendent heroes of the recent or distant past, for no other reason than to drool over his next pitch or exult in his supremacy.
If baseball is thinking outside the batter's box, it's reserving Blake Griffin's Kia Optima for this year's All-Star Game, just in case it's needed for Kershaw to drop one of his magic breaking balls through.
If that all seems a bit fast on the superlative train, if that locomotive seems to have some particularly loco motives, well, maybe so. Maybe we're getting ahead of ourselves. Maybe that train will never quite arrive.
On the other hand, consider that you have a prodigy who has steadily developed, steadily improved every step of the way since he was drafted by the Dodgers 4 1/2 years ago, a pitcher who has met every small step back with two great steps forward.
"If there's anything surprising," Dodgers pitching coach Rick Honeycutt told Dodger Thoughts about Kershaw, "it's at such an early age, the maturity of him and the way he goes about [his work]. He's really a true professional ... to the point that he's really one of those gems that just strives to be the best and is not satisfied with being anything less."
Rebound magnet
By the time he finished his first full season in the minors, in 2007, the Kershaw shorthand had been established: an uncommonly talented pitcher who would go as far as his control would allow him. His entire minor league career, which included not a day in Triple-A, lasted but 48 games and 220 1/3 innings, in which he had a 2.49 ERA and 11.3 strikeouts per nine innings. But, the walks ...
In 2007, Kershaw split time between Class A and Double-A. He walked 4.6 per nine innings at the lower level and a whopping 6.2 after his promotion to Jacksonville. In 2008, Kershaw reduced his Double-A walk rate by more than half to 2.8. A pattern had begun: lose control, but rein it in and blast forward. With an ERA in the low 2s, he knocked so hard on the major league door that the Dodgers had to open it, making him, at age 20, their youngest big leaguer since Edwin Jackson.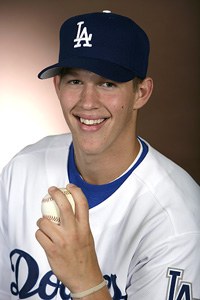 Jon SooHoo/Los Angeles Dodgers
Kershaw's first Dodgers mugshotIn his debut, Kershaw pitched six innings of two-run ball against Albert Pujols and the St. Louis Cardinals. Then he got knocked out in the fourth inning of his second start, in New York, walking four and needing 83 pitches to get 11 outs. Over his next six starts, he had a respectable 4.03 ERA and 7.4 strikeouts per nine innings. But he also was walking nearly as many as he was striking out; he didn't make it through six innings once.
"The bumps were command," Dodgers general manager Ned Colletti said. "Obviously, he's got a great arm and he's a smart kid and he's coachable, but command was the first issue -- rushing his delivery and just kind of being out of whack a little bit, and that happens with guys.
"When you're a [recent] high school player ... you've got to wait for the mental part to reach the physical part."
After a July 1 start, the Dodgers dropped him back to Jacksonville for a little more seasoning, but he was gone less than a month. And when he came back, he was back for good. The Dodgers stuck with him after a horrendous outing in Colorado -- three innings, 13 baserunners -- and he rewarded the faith with five consecutive quality starts, averaging more than six innings with a 1.45 ERA, striking out 29 and walking only nine.
Never after a setback has Kershaw failed to rebound -- and improve.
"His greatest strength is just his confidence," Honeycutt said. "He's got great ability, but ... he expects to do well. There's no fear in him. There's that part of him that wants the ball. He wants to go deep in the game. He wants to be one of the best.
"The other side of the coin for that strength is him learning himself better, in how he prepares his game."
After getting his postseason feet wet in 2008 as a reliever, Kershaw was on the Opening Day roster in 2009 and went through more of the same. In his second start of the year, he struck out 13 Giants in seven innings while allowing only a single walk and a single hit, a home run by Bengie Molina. The control issues still would flare up -- he walked four batters or more in 13 of his 31 starts -- but his season ERA fell from 4.26 in 2008 to 2.79 in 2009, and he led the National League in fewest hits per nine innings. In Game 2 of the 2009 NL Division Series, he held St. Louis to two runs over 6 2/3 innings, keeping the Dodgers alive for their dramatic, ninth-inning comeback victory.
But Kershaw faltered in the NL Championship Series. After shutting out the Phillies for four innings in Game 1, his fifth inning consisted of three walks and three wild pitches to go with a single, a double and a home run, a five-run collapse that reinforced in the general public's mind this was still a baby in a man's world. Next to cries for Jonathan Broxton's head or Manny Ramirez's testosterone tests, nothing was heard more from the peanut gallery than "The Dodgers need an ace."
Within a year, the Dodgers were out of the playoffs, but their ace had arrived.
Growth spurt
In his first start of 2010, Kershaw walked six batters in 4 2/3 innings. By the end of April, he had walked 22 in 29 1/3 innings. And then, on May 4 against Milwaukee, he was battered: 1 1/3 innings, seven runs. His ERA sat at 4.99, and numerous pundits suggested this might be the real Kershaw. Jon Heyman of SI.com tweeted:
kershaw may be regressing faster than billingsley. not sure. close competition. #howcanbradpennybebetterthanboth?
"There was a point [in May] last year," Honeycutt recalled of Kershaw, "where things were not going [as] well as he would like or we would like. He actually made a few adjustments, even in his 'pens, that we talked about. That's really when he started coming up with a smaller breaking ball. You can call it a slider ... [but] a shorter breaking ball that he could throw for strikes more consistently.
"There was more importance on commanding the lower part of the zone in his bullpens than just getting his work in."
Kershaw's next start was May 9 against the hottest pitcher in baseball at that moment, Colorado's 26-year-old Ubaldo Jimenez, who had made six starts to that point and allowed four total runs. Kershaw outpitched him that day, nursing a 1-0 lead with eight shutout innings, allowing two hits and three walks while striking out nine. It was an arrival game.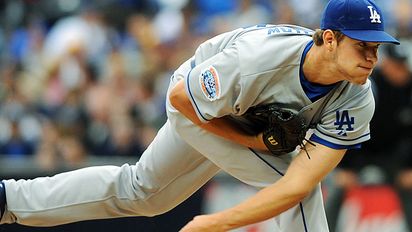 Christopher Hanewinckel/US Presswire
Kershaw worked his way through 204 1/3 innings last season, striking out 212.Other gems followed, culminating in his first major league shutout. Kershaw had come close before, but finally in San Francisco on Sept. 14 (a night the Dodgers had only one hit in nine innings), a complete-game, 1-0 victory was his. But more impressive than the individual highlights was the overall growing control. Starting with the Jimenez game, Kershaw's walk rate for the 26 starts that finished off his 2010 season was a career-best 2.95 per nine innings. Not coincidentally, he averaged a career-best 6 2/3 innings per start in that stretch. His ERA was 2.54, and opponents had a mere .277 on-base percentage and .303 slugging percentage against him.
"I just think experience helps," Kershaw told ESPNLA's Tony Jackson. "The more times you go out there, the more experience you get and the more confidence you get. I don't think it was a matter of walking a lot of guys because I had bad control. I was just trying to be too fine and not letting my stuff do its thing. Now, I'm just trying to go after hitters more."
Said Honeycutt: "I think again it was ... maturity and not just thinking you have to go 100 percent on every pitch. There's that fine line, pitching at that level and saying, 'I can throw at 90 percent and maybe be a little bit more under control and get the ball in an area a little bit better.'"
Gearing up for '11
No one, least of all Kershaw, thinks he has it made. For all his improvement and excellence, Kershaw had at least one start go awry every month of last season. Preparation for taking another two steps forward in 2011 -- ideally without the typical one step back -- has been at the forefront of everyone's mind.
"From [the] first time I talked to him [this winter], he had already been doing his conditioning," Honeycutt said. "He came out to Arizona and threw a couple of 'pens and just looked great already, just physically and arm-wise. ... He's very aware of where he wants to be and what we're trying to work on."
"It was mostly throwing changeups," Kershaw said, "because that is the pitch that is the toughest for me to get a feel for, so that's obviously something I wanted to work on. I also just worked on gaining strength and trying to get stronger.
"My high school [Highland Park] finally got an indoor facility. That was where the Packers trained before the Super Bowl. So that was awesome to have a place like that to work out in the winter time."
Kershaw's offseason has had some non-baseball moments of a grand scale: his marriage to longtime girlfriend Ellen in December, followed by a brief honeymoon and then a goodwill trip to Zambia in January. Any of this could have proved distracting, but Kershaw said he stayed on his offseason plan.
"I just took it with me," he said. "I threw while I was in Africa and got my work in. I worked out pretty much the entire winter except for the four days we were on our honeymoon in Mexico."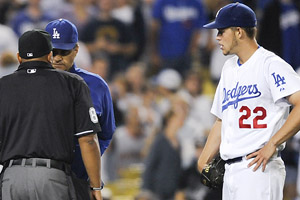 Gus Ruelas/AP
Joe Torre and umpire Adrian Johnson debate Kershaw's ejection after hitting San Francisco's Aaron Rowand with a pitch July 20.With his ascendancy on the mound coupled by his growing maturity on and off the field, there's a ray of hope that Kershaw could become a leader in a Dodgers clubhouse that many say is crying out for one, especially from its newest generation. Kershaw, Colletti and Honeycutt all tamped that notion a bit, noting a pitcher is handicapped as a clubhouse leader by how often he plays relative to the position players.
"We have a lot of guys who have more experience than I do," Kershaw said. "For me personally, I just pitch. It's the only thing I can do."
"They're in two different realms most of the time," Colletti said of pitchers and position players. "But certainly from a pitching standpoint he can [lead]. And he's had great support, too, from the other guys. He and [Hiroki] Kuroda have been close since Kuroda got here. [Ted] Lilly and he hit it off right away. Lilly helped in his maturation process. So it's possible that he starts to take more of a leadership role."
In that respect, it might turn out that Kershaw's influence is felt less among the 25 men on the major league roster at any one time and more specifically on the minor league pitchers coming up through the farm system -- a group that as a whole suffered through a rocky 2010.
"We had this prospect camp in Arizona," Colletti said. "The major league guys know about it, but they're not required to be there. And he showed up. We had him address the prospects -- the other guys, the Withrows, the Millers, the Martins, the Eovaldis -- all those young arms. He addressed them a couple of times, and it was very interesting to hear this young man speak from the perspective of prioritization and work ethic, and on bringing the mental side of the game.
"He talked about how he came here and he thought he was pretty good right away, but how much he has learned and how much he continues to learn, to become as good as he can be."
Pitfalls and pinnacles
How good can Kershaw be?
He's already viewed by many as the Dodgers' best lefty since Fernando. To become the Dodgers' best lefty since Koufax -- to help boost the team above the early season predictions positioning it as an also-ran to San Francisco, to start a mania in Los Angeles -- Kershaw is going to have to become even more consistently excellent, avoiding the short start in which the runs suddenly pour across in bunches.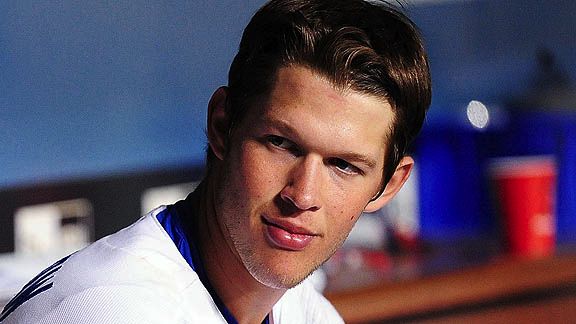 Gary A. Vasquez/US Presswire
Kershaw's career high for pitches in a game is 118."He's starting to get to the point where he's keeping his pitch count decent, starting a game out where the first inning isn't a lot of pitches," Colletti said. "Some guys, there's an excitement to coming out of the gate, and maybe you rush a few things here and there, maybe you don't warm up quite as thoroughly as you do when you're into the game."
Honeycutt said the Dodgers, who were extremely protective of Kershaw from a pitch-count perspective when he arrived in the majors, will continue to loosen their grip in 2011, bit by bit.
"He's definitely strong enough and has shown the ability to obviously go deeper," Honeycutt said. "With any starting pitcher, the game itself kind of dictates what you're gonna do, and not that we don't want him [to go long], but you still want to be conscious the whole goal is to keep him healthy for 32-34 starts and the postseason."
Following a tough inning, the Dodgers still plan to be conservative with Kershaw, but "when things are going smooth, you let it ride," Honeycutt said.
"He definitely has the ability to be a 120-125-pitch-type guy, where you don't have to worry about him coming back. He's gotten stronger, and his recovery over five days has been very consistent," Honeycutt said. "The main thing is be smart with him like we would anybody. ... I think you feel more comfortable about letting the reins loose."
In each of the past two seasons, a top young Dodgers pitcher suffered a prolonged, second-half setback: Chad Billingsley in 2009 and Broxton in 2010. With Kershaw still younger than either of those pitchers were then, it's hard not to consider that, even as the best is yet to come, the worst might arrive first.
"I don't think there's any way for predicting," Honeycutt said. "I still think a lot of Chad's situation was he was a little tight there around the All-Star break, and then he had a hamstring injury right after the break, so there were some physical issues there. Obviously, Broxton being a reliever, it's a little bit different. ... It's trying to be very conscious of where each individual is. Each is gonna hit little walls. What's tougher I think sometimes for a young guy is that communication process of knowing exactly what's happening.
"I think [someone who's] more of a veteran guy might have a light side in between starts. Derek Lowe, a lot of times as the season went on, would be, 'I'm not gonna do a side this time. Just let my body recover.' ... But there's no perfect formula."
Heir to the throne
If it all comes together for Kershaw, if he becomes a Clayton or a Kershaw (or gets a nickname besides the one launched on Dodger Thoughts, "Minotaur," that isn't based in a superstitious fear of him becoming more myth than legend), the one thing no one seems to worry about is the lefty's ability to thrive amid the attention.
The fans want someone to love. Kershaw can handle the love.
"He's had quite a bit of attention already," Honeycutt said. "We've thrown everything at him already, coming up as a 19-year-old and being a starter in the playoffs [at age 21], those are advancements that you just don't throw on anyone unless you feel he can handle them. In my view, he's handled things extremely well.
"He's the type of guy that always seems to want a challenge. Some people like to shy away from a challenge, but the great ones want those head on. ... He puts the team first, which has been a real plus to him from the start. It hasn't been about him, but it's about how [he] can help the team."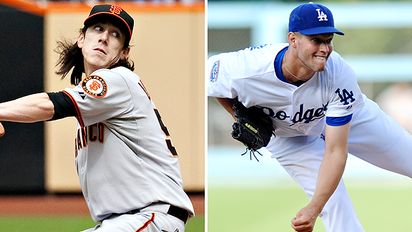 Icon SMI
The Opening Day showdown: Lincecum versus Kershaw.It's not as if Kershaw is some robot that pays no mind to his surroundings. But the subtext keeps coming back: maturity and perspective.
"I wasn't in awe, but definitely, the first time I got in here, it was different," Kershaw said of his comfort zone in the majors. "You don't really look at these guys as your teammates at that point. We had guys like Jeff Kent here, a lot of guys like that. But over time, the more familiar you become with something, the more comfortable you get with it."
On March 31, Kershaw will take the mound in the first game of the 2011 major league baseball season, in front of a yearning Dodger Stadium crowd and a national television audience, against the defending World Series champions and two-time NL Cy Young Award winner Tim Lincecum. If Kershaw loses, you can put the fanfare on hold.
But if he wins, and wins impressively, then get ready, Los Angeles. Just get ready.