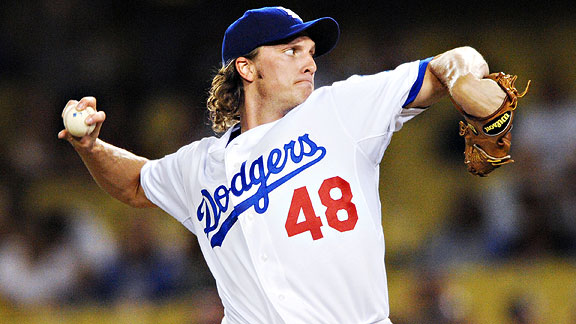 Kelvin Kuo/US Presswire
John ElyVicente Padilla was ticketed for the bullpen, but everyone expected him to be the first guy Los Angeles turned to if anyone in the Dodgers' starting rotation had to miss a start. In fact, Padilla was going to be on a starters' program in the early days of Spring Training before shifting to a relievers' routine.
Dodger fans can still hope that Padilla will be back in uniform before a sixth starter is needed, but in case he isn't, who's next in line?
Blake Hawksworth started some last year for St. Louis, but Don Mattingly seemed pretty keen on keeping him in the bullpen. "As a starter he was throwing 90 (mph), 91 and out of the bullpen 94, 95," Dodger manager Don Mattingly told Ken Gurnick of MLB.com earlier this month. "Sometimes a guy thinks when he's starting he has to pace himself. Out of the 'pen he's more aggressive and attacking. We feel that's where he fits best."

Carlos Monasterios started 13 games for the Dodgers last year, but also performed much better in relief. The question is how the Dodgers view him going forward: He was ticketed for Albuquerque to start this season, but if he's going to be in the rotation, he might be someone they turn to.

The Dodgers have toyed with Scott Elbert and even Ramon Troncoso as starting pitchers in their minor-league careers, but they are firmly relievers now.

Jon Link has gotten some brief starting work in his pro career, but he seems an unlikely option.

Minor-League Pitcher of the Year Rubby De La Rosa? Maybe later, but too soon for now.

Tim Redding is the player in camp with the most starting experience: 144 starts in the 33-year-old's major-league career. But none of those have come since 2009, when he had a 5.10 ERA for the Mets.
That brings us back to last spring's rotation savior, John Ely. Ely had a 2.54 ERA through June 1, an 8.00 ERA after. If there's any chance that Part II was the fluke and not Part I, Ely might get the first opportunity to prove it. Elymania II?