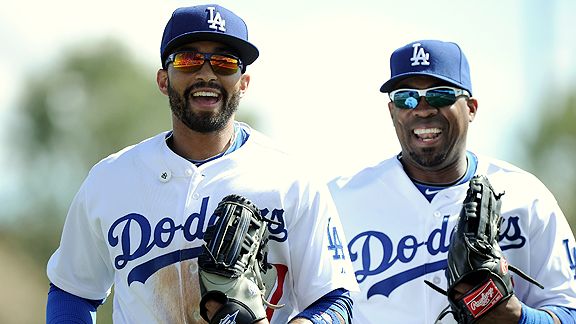 Harry How/Getty Images
Matt Kemp and Marcus Thames feel fine in the sunshine.Spring Training, Day 2
Highlights:
Looking to return to form and function, John Ely faced eight batters and allowed one hit, striking out three and walking none.

The Dodger bullpen followed with seven shutout innings from Mike MacDougal, Blake Hawksworth, Kenley Jansen, Ramon Troncoso and Jon Link.

Two hits from Rafael Furcal in his Spring Training debut.

Jamie(Jamey)'s got a glove: Diving defensive plays from Jamey Carroll at short and Jamie Hoffmann in left field.

Rod Barajas hit the Dodgers first homer of the spring.
Lowlights:
I didn't see the play, so I don't know how bad it was, but after hitting a two-run single in the first inning, Matt Kemp was picked off. Something for him and Davey Lopes to talk about?

Andre Ethier struck out in both his at-bats.
Sidelights: