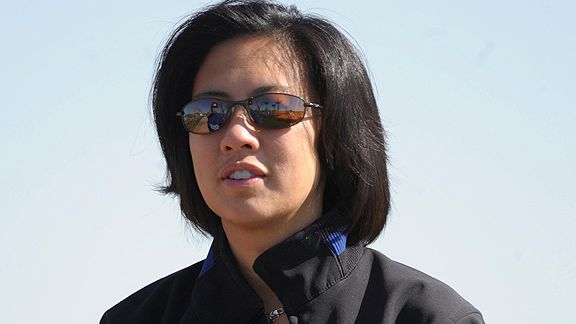 Kirby Lee/Image of Sport/US Presswire
As an assistant general manager in baseball, Kim Ng went to the postseason eight times.Many is the time that we both welcomed and feared this moment – the moment that Kim Ng would be rewarded for her considerable acumen by a higher profile job.
The only difference is that we envisioned her becoming the majors' first female general manager, but now we're contemplating whether she might someday become MLB's first female commissioner.
A report by Ken Gurnick of MLB.com says that Ng, the Dodger vice president and general manager, will become senior vice president of baseball operations for Major League Baseball. Though the report has not been confirmed on the record, we're thinking that an official announcement could come as soon as Tuesday morning, ending her nearly decade-long run in Los Angeles.
There's never been an accurate way to quantify Ng's talents, much the same as it is for all of us who don't make a living by trying to score runs, points or goals. But there has just been too much widespread respect for her to suggest that she hasn't been a talent on the rise. The assumption is that Joe Torre, recently named MLB executive vice president of baseball operations, recognized this as well.
Who knows ... if she doesn't stay in the MLB executive suite, maybe someday, she'll take another turn and find her way back to Los Angeles. But in the meantime, while the Dodgers will certainly miss her, I very much want to take this opportunity to congratulate her. Well done.
Update: Bill Madden of the New York Daily News has a separate story on this. An excerpt:
With Joe Torre now in place as executive VP of operations, Major League Baseball has undertaken a major restructuring of the department. Three senior officials were fired, while former Arizona Diamondbacks GM Joe Garagiola Jr. maintains his title of senior VP but accepts a demotion from a supervisory role to the "dean of discipline" position.

In what one MLB employee described as a "bloodbath," VP of umpiring Mike Port and longtime VP of administration Ed Burns were fired on Thursday, along with ex-Met outfielder Darryl Hamilton, the senior specialist of on-field operations. ...

Replacing Port, Garagiola and Burns as the senior officials working directly under Torre are Kim Ng, the former assistant GM of the Yankees who has been serving in the same position for the Los Angeles Dodgers since 2002, and Peter Woodfork, former assistant GM of the Diamondbacks. Woodfork, who also worked in MLB's labor relations department under executive VP Rob Manfred, is slated to be Torre's "point man" with the umpires, while Ng's primary responsibilities will be in the players' area. ...

Although much was made of Torre's hiring by commissioner Bud Selig on Feb. 26 at a reported salary of $2 million, all the changes within operations were said to be in the works before he came aboard. Of the new people, only Ng had ever worked with Torre before and, like him, she was eager to flee what has become a Dodger cuckoo's nest under battling owners Frank and Jamie McCourt, who are in the midst of increasingly messy divorce proceedings.
From her bio:
... Ng's primary responsibilities are to assist General Manager Ned Colletti in all facets of Major League player acquisitions - making trades, signing free agents and negotiating contracts. In addition to coordinating player transactions, she oversees the club's arbitration efforts and manages the day-to-day operations of the baseball department including the research, video, clubhouse and team travel divisions.

Her tenure at the Dodgers has been highlighted by dramatic improvement in scouting and player development, leading to numerous accolades including 2006 Organization of the Year honors by Baseball America. The publication also called Ng a top general manager prospect in its "Best Tools" issue.

In 2004, along with her other duties, Ng assumed the interim position of Director of Player Development and was responsible for overseeing the Dodgers' Minor League department, including developing and evaluating all players in the farm system, appointing minor league managers and coaching staff and overseeing the club's winter ball participation and relationships between the Dodgers and their minor league affiliates.

In 2008, Ng was a finalist for the GM position in Seattle. Considered one of the future leaders of baseball, Ng was recently tabbed one of "10 to Watch" by Baseball America in its 25th anniversary issue saluting the most influential people in the game. Additionally, she was featured by Newsweek during its year-end "Who's Next?" edition in 2006.

In 2007, she was one of 20 fellows that were named to the Young Leaders Forum for the National Committee on United States-China relations and took part in a four-day retreat in Nanjing, China. The Young Leaders Forum (YLF) provides an opportunity to enhance the dialogue between the two countries and build lasting economic, geopolitical and cultural ties among the people of both nations.

Prior to joining the Dodgers, Ng served as Vice President and Assistant General Manager for the New York Yankees (1998 - 2001). At 29 years of age when hired by the Yankees, she was the youngest Assistant General Manager in Major League Baseball. In her four seasons with the Yankees, New York advanced to the World Series four times and won three World Championships.

Before her time with the Yankees' organization, Ng served as Director of Waivers and Records for the American League in 1997. She approved all player transactions and contracts and assisted American League General Managers to interpret and apply the Major League Rules and the Basic Agreement.

She began her career in baseball with the Chicago White Sox, serving as Special Projects Analyst (1991 - 1994) and was then promoted to Assistant Director of Baseball Operations in 1995. In those positions, she assisted in analyzing player tendencies, signing free agents, tracking Major League player movement, arbitration, negotiating contracts and budgeting. ...