My thoughts remain with the victims of the earthquake and tsunami in Japan.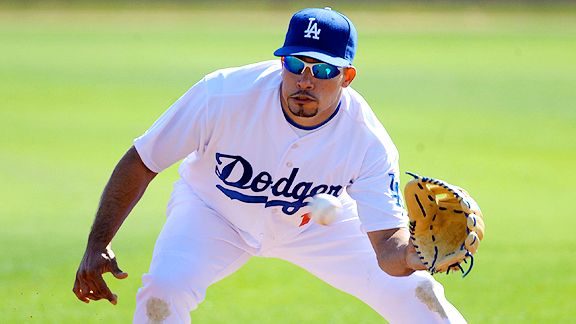 Kirby Lee/Image of Sport/US Presswire
Rafael Furcal, shaky sparkplugIt says something about how concerned people are with the Dodgers offense that even as pitchers Vicente Padilla, Jon Garland and Ronald Belisario have dropped off the probable Opening Day roster, the hitting is still the Dodgers' primary concern. And not without good reason.
But there are a number of ways, not even high-apple-pie-in-the-sky ways, that the Dodgers offense could exceed the lowest expectations and prove adequate, if not above average. Here are some potential upsides for the batsmen:
250 total bases from Rafael Furcal
The Dodgers want Furcal to be reasonably healthy and reasonably productive. Reaching this milestone would indicate that Furcal was successful on both fronts. (Throw in about 50 walks and double-digit steals to top it off.)
The challenge: The 33-year-old hasn't reached 250 total bases since his first year as a Dodger in 2006, when he had 291. In 2009, Furcal played in 150 games but struggled badly at the plate (probably playing at less than 100 percent); the following year he was on pace for a great season but couldn't make it into more than 97 games. The problem with Furcal seems to be that he is simply not a quick healer these days.
The hope: Furcal could miss 30 games and still reach the plateau if his bat doesn't take a holiday. Knowing the Dodgers have Jamey Carroll as a backup in the majors and Dee Gordon or Ivan De Jesus in the minors, the team can afford to give him days off or even a quick run on the disabled list to recover from lighter ailments in order to preserve him for the long haul.
2009 calls, and Matt Kemp answers
A year ago, we were wondering how Kemp might improve on his banner 2009 season. Today, everyone would be happy if he merely matched it. Lest we forget, that was a season, at age 24, when Kemp had a .352 on-base percentage, .490 slugging percentage, 34 steals in 42 attempts and defense that made you gasp, but not in horror.
The challenge: Finding out if Kemp still has a 2009 in him. Can he adjust, both to the pitchers who fooled him in 2010 and to the level of mental approach required of him over a full season?
The hope: It's not unusual for players to take a step back before they take their next step forward. The Dodgers hope the presence of Davey Lopes will help provide the spring in Kemp's step. Want a statistical beacon to look toward? Kemp's batting average on balls in play last year was .295, after averaging .364 the previous three seasons. A little luck could go a long way.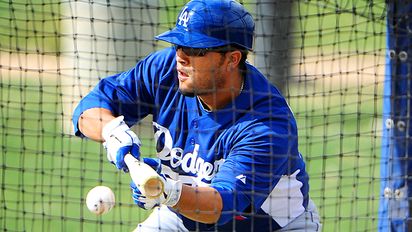 Kyle Terada/US Presswire
Dioner Navarro
Dioner Navarro proves his signing wasn't a clerical error
"I've made a huge mistake," Gob Bluth of "Arrested Development" might have said had he woken up one morning and realized he had signed the once-and-future Dodger catcher to a $1 million contract after Navarro slogged out a .528 OPS in 2010.
The challenge: It wasn't only 2010. Over the past two seasons, Navarro has a .263 on-base percentage and .306 slugging percentage in 163 games. Yes, offensive expectations are lower for a catcher, but that's just useless. The Dodgers need their backup catcher to succeed because Rod Barajas can't play every day (nor would you want him to), but investing too much patience in Navarro could be an investment in a black hole.
The hope: Navarro is still only 27, still only two seasons removed from a .349 OBP and .407 slugging. Totals like that would more than do the trick. Why the Dodgers think Navarro can recover, I cannot tell you, but this isn't the stereotypical Ned Colletti signing of a veteran on the downslope of his career. This was a belief signing, a buy-low on a player who could still be entering his prime. Perhaps Navarro's 2011 will show us why at the end of every hard-earned day people find some reason to believe.
James Loney stops hitting like Joe Shlabotnik
Kemp gets all the grief in the mainstream press, but for New School fans, it's Loney who's the bigger target. His RBI totals (especially relative to his opportunities) and his defense don't make up for the overall production the Dodgers could really use from their first baseman.
The challenge: Among other things, proving that not one but two seasons of sub-.400 slugging percentage were just a pause that refreshes. And then there's overcoming a walk-to-strikeout ratio that went from 1.03 in 2009 to 0.55 last year. And then ... well, you get the idea.
The hope: Loney had an .803 OPS heading into the All-Star break last season, which isn't exactly Albert Pujols, but it's something to cling to. Folks still love his stroke, a stroke that delivered 19 homers, a .372 on-base percentage and .543 slugging percentage in his first 144 career games. Are we really to believe that Loney peaked at age 23?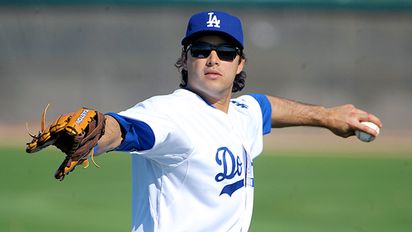 Kirby Lee/Image of Sport/US Presswire
Andre Ethier
Andre Ethier is no platoon player
Ethier had an .846 OPS in 72 plate appearances against left-handed pitchers as a rookie in 2006. That production has declined each and every year since, down to .625 in 178 PA last season.
The challenge: Actually, protecting that pivotal pinkie might be Ethier's biggest 2011 worry, but presuming he can, the decline against lefties is more than a bit worrying. Four years of decline is tough to stomach even for a player of Ethier's overall ability.
The hope: Ethier, who will be 29 in April, was on an MVP pace for the first several weeks of last season, so with loads of room to improve against lefties, his best year might still be ahead of him. The alternative is that the Dodgers softly begin resting him against lefties if a fellow by the name of Jerry Sands keeps knocking at the door.
Jerry Sands knocks at the door
The power-hitting 23-year-old minor-leaguer with all of 68 games above Class A has been perhaps the top story in the early days of spring training, as Dodgers fans unhappy with the current third-outfielder conglomerate look longingly for a savior.
The challenge: Handling temptation. Sands' massive inexperience at the higher levels of the game makes the script all too easy to write -- an early taste of success followed by a faceplant against major-league breaking pitches.
The hope: In 2006, Ethier and Kemp came up as rookies and, while they didn't win permanent starting jobs right away, made unmistakable contributions toward that year's division title. The Dodgers can't expect Sands to become rookie of the year, but it's not crazy to dream he (or Trayvon Robinson) could provide some lift to the sagging outfield picture.
A midseason trade gives offense a new gear
For all the talk of how the McCourt ownership has hamstrung player acquisitions, the Dodgers have not been silent at the trade deadline. Ted Lilly was no Manny Ramirez 2008, but he was a major splurge for a team barely hanging on in more ways than one. It's sensible to assume that unless the Dodgers fall completely out of the race, Colletti will have the BlackBerry working.
The challenge: Making the trade worthwhile, both in terms of what comes in (spare us Scott Podsednik, please) and what goes out. If Rubby De La Rosa continues his rapid progress, and anyone from the group including Ethan Martin, Aaron Miller and Chris Withrow bounces back, the Dodgers will have no shortage of trade chips in pitching alone. But you don't want to use them unwisely, not at all.
The hope: Right player at the right time, ideally without giving up the primo minor-league talent. They've done it before; could they do it again?