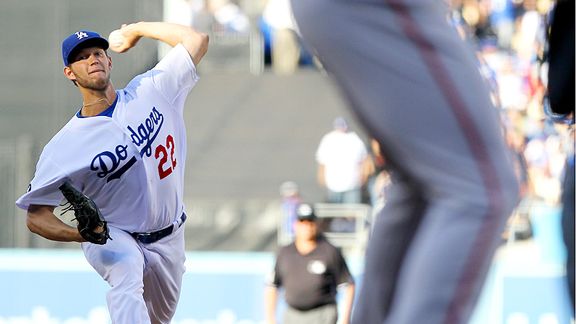 Jeff Gross/Getty Images
Clayton Kershaw, out of the blue and into the blackAny hope that the Los Angeles Dodgers would support their pitching with great fundamentals and an underrated offense took an early uppercut to the jaw on Opening Day, 2011.
But any fear that Clayton Kershaw wasn't up to carrying the responsibility of team leader on his shoulders was KO'd.
In the latest of his coming-of-age performances, Kershaw shut out the San Francisco Giants for seven innings, striking out nine, and the Dodgers knocked the Giants off their Opening Day beanstalk, 2-1.
Kershaw struck out four in the first two innings, eight in the first four innings. He didn't fret when he went 3-0 for the only time of the night to Pat Burrell, nabbing him two pitches later on a flyout, nor did he get shy after Aubrey Huff hit the night's biggest shot, a fly ball to the wall in right field in the fourth. Kershaw simply reared back and struck out Buster Posey and Burrell.
He pitched out of his first two-on jam in the fifth inning, drew a double-play grounder after allowing a leadoff single in the sixth. In the seventh inning, he matched a Dodgers Opening Day record (for non-extra-inning games - thanks, Bob Timmermann) by striking out his ninth batter.
And after that, admired as Hong-Chih Kuo and embattled Jonathan Broxton -- after a skipped heartbeat or two -- held up their end of the pitching deal, closing out the game.
It was a true showcase for the ace -- not so much at first for some other of the Dodgers' skills.
The first inning set the tone, when Kershaw struck out the side to overcome Rafael Furcal's one-out unforced throwing error. In the second inning, Kershaw was unable to handle James Loney's lob for a 3-1 groundout, and in the bottom of the frame, Juan Uribe overslid second base and was called out after initially appearing safe stretching a single to a double. Then, after Rod Barajas singled (a hit that might have scored Uribe) and went to second base on a passed ball, Jamey Carroll couldn't put the ball in play, striking out ahead of Kershaw doing the same.
Loney undermined his own Mr. RBI marketing campaign by grounding out with two runners on and two out in each of his first two at-bats -- the Dodgers going 0 for their first five at-bats with runners in scoring position. Hey, it happen. And it figures to happen pretty often with the Dodgers this year, not due to a lack of heart but the law of low on-base percentages.
Of course, there was also a guy named Tim Lincecum out there on the mound, so no one's really going to hold the Dodgers too accountable for not lighting up the scoreboard this time around. And then, as it turned out, last year's world champions proved even more fundamental-free than the Dodgers.
After Matt Kemp walked for the second of three, count 'em, three times in the game, Loney nearly hit into another groundout, only to be saved by a Miguel Tejada throwing error. Lincecum then hit Juan Uribe with a pitch to load the bases.
And then, in the first bizarre play of this young season, Posey shoveled up a pitch in the dirt, then fired at third base trying to pick off Kemp just as the Dodger was completing his return to the third-base bag. The throw got past Pablo Sandoval, and Kemp trotted home with Run No. 1.
"I saw Pablo," Kemp told Ramona Shelburne of ESPNLosAngeles.com after the game. "I saw his reaction. I saw his eyes, and I knew the ball was coming. I don't know what was going on, but I'll take it."
Kershaw threw 13 pitches in the seventh inning, giving him 96 for the night and setting up the possibility that with a quick eighth inning, he might go the distance -- and spare everyone the edginess of a Broxton appearance. But debut Dodgers manager Don Mattingly gunslinged straight to his bullpen to start the eighth, beginning with Kuo.
That's the guy who elicits no scorn, but Kuo threw his first six pitches out of the strike zone (four to leadoff man Mark DeRosa, batting for Lincecum). Rallying, he retired Andres Torres, Freddy Sanchez and Huff to wrap up the frame.
In the bottom of the eighth, Kemp worked out that career-high third walk, followed by a no-contest stolen base. Loney, grateful for the latest chance to drive in a run, came through with a solid double. Neither Uribe, Barajas or Carroll could build upon that Farmer's Insurance Run (naming rights pending) ...and so we came to the heavyweight bout of the night.
Broxton vs. Broxton.
The crowd buzzed ...
vs. Posey: ball a little high, and then a grounder to Loney that he slid for, kept in front and shoveled to the rumbling pitcher covering the bag.

vs. Burrell: ball, ball, foul back, and a home run smoked on a low arc to left field. Alarm bells.

vs. Tejada: ball, swinging strike, tapper in front of the plate for Barajas to throw to Loney for the second out.

vs. Brandon Belt: swinging strike, ball outside, ground foul wide of third, ball outside, soft foul toward the Giants' dugout, hair's breadth foul tip, foul back, looping liner to third base.
Done.