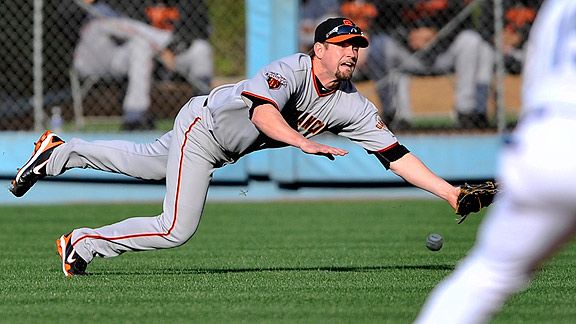 Gus Ruelas/AP
Aubrey Huff dives in vain for Jamey Carroll's soon-to-be RBI triple, giving the Dodgers a 1-0 first-inning lead.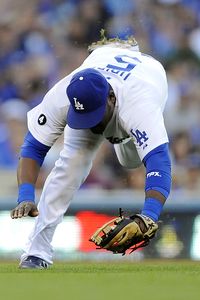 Gus Ruelas/AP
An oncoming Juan Uribe loses his footing.Dodger Stadium almost saw a perfect game of a most unexpected sort Sunday.
After Matt Kemp hit a two-run homer to cap a three-run first inning for the Dodgers and Pablo Sandoval countered with a leadoff blast to start the second inning for the Giants, pitchers Hiroki Kuroda and Barry Zito combined to retire 26 consecutive batters. At the moment of truth, Freddy Sanchez hit a slow roller that third baseman Juan Uribe tumbled going after – "Hiroki was actually walking off the field when that ball was hit," ESPN commentator Bobby Valentine said – ending the streak.
But even though it wasn't a perfecto, real or imagined, the result was plenty good for the Dodgers, who won their third of four games in their 2011 opening series with San Francisco, 7-5.
Marcus Thames, who went 0 for 2 against lefty starter Zito, found southpaw reliever Dan Runzler more to his liking to break a 3-3, seventh-inning tie. Thames' drive to deep right had Aubrey Huff running for his life like Cary Grant in "North by Northwest" before the ball went off his glove for a triple, driving home James Loney. It was the second time in the game that Huff, moved to right field to make room for rookie Brandon Belt at first base, had let a ball play him into an RBI triple.
In his third appearance of this young season but his first on ESPN's Sunday Night Baseball since his disastrous outing against the Yankees last June, Jonathan Broxton pitched the ninth inning with a 7-4 lead. Aaron Rowand hit the second homer of the season off Broxton – who in 2008 only allowed two homers all year – and Freddy Sanchez hit a one-out single, but Broxton retired Huff and Buster Posey to ground out to end the game.
San Francisco lost despite scoring in each of the final four innings.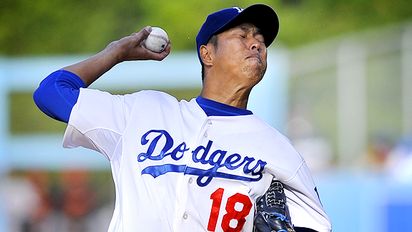 Gus Ruelas/AP
Hiroki Kuroda needed only 56 pitches to get through the first five innings.
What ended up being a high-scoring game from Giants-Dodgers standards spent half its time as a pitcher's duel, led by Kuroda, who was superb from his second batter. (His first, Andres Torres, was hit by a pitch.) After Sandoval's homer, Kuroda retired 14 in a row before Sanchez reached base. Ensuing hits by Huff and Posey drove in the second run, though Kuroda retired Sandoval to escape further damage ... temporarily. In the seventh, leadoff hitter Pat Burrell hit his second homer of the season to left field to tie the game.
A one-out double by Miguel Tejada sent Rick Honeycutt to the mound for his first visit of the night. But the nailbiting didn't last long. Mike Fontenot obliged Kuroda with a first-pitch flyout and Torres fouled out, ending Kuroda's night at seven innings and six hits, no walks and five strikeouts.
In the bottom of the seventh, after Loney's single (his second hit of the year in four games) and Thames' triple, pinch-hitter Aaron Miles singled in pinch-runner Tony Gwynn Jr., Rafael Furcal doubled in Miles and Andre Ethier singled in Furcal.
Dodger reliever Hong-Chih Kuo was erratic enough in the eighth that Don Mattingly pulled him – after striking out Sandoval on his 22nd pitch – with two on and two out in favor of offseason free agent acquisition Matt Guerrier. Even shakier, Guerrier walked Burrell and Belt to force in a run, before Tejada, swinging at the first pitch, fouled out.
Not for the first time this season, I'm at risk of not giving due credit to Kemp, who has once again become "Stop what you're doing and watch TV" – in a good way. His first-inning homer, coming one batter after Jamey Carroll tripled past a diving Huff, landed deep in the left-field bullpen, and at the time made Kemp 5 for 9 with 10 total bases and a .667 on-base percentage. Zito himself retired 14 in a row after that and ended his night with the score tied – a tie that seemed like ancient history by the time this one was finally over.