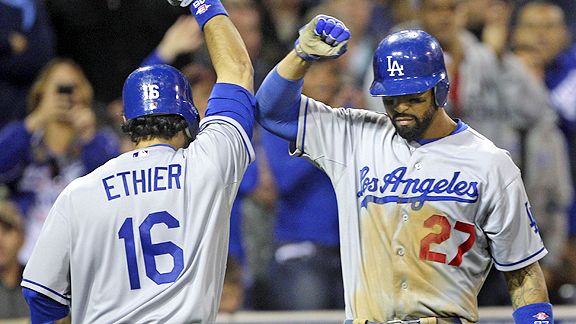 Lenny Ignelzi/AP
An elbow salute to Andre Ethier's first homer of the year.The smoothest Dodger victory of the season, 4-0 over the Padres, had a rough-and-tumble ending.
On a night that the Dodgers were concerned enough about their bullpen to hold Chad Billingsley in reserve, Hiroki Kuroda, a good man and true, took a one-hitter into the seventh inning (last year, you'll recall, he took a no-hitter into the eighth inning against the Phillies) and came within one out of a shutout. He threw 117 pitches, the most by a National League pitcher in this young season.
Kuroda gave up his fifth and sixth hits with two out in the ninth, and Jonathan Broxton came in to try to save his second game of the day and fifth of five Dodger victories this season. Broxton had Chris Denorfia down 1-2 in the count before walking him, bringing up the tying run in Cameron Maybin.
Maybin hit a slow roller inside of third base. As he went for the ball, Casey Blake and Chase Headley collided, sending both players tumbling. Umpire Ed Hickox called interference, and just like that, the game was over. Blake would have had a tough play to get Maybin at first base.
Tonight's twin victories didn't do all that much to alleviate concerns about the Dodger offense, but they have done wonders for some Dodger batting averages and on-base percentages. Check out these numbers from tonight's starting lineup:
.484/.568 Matt Kemp
.400/.478 Jamey Carroll
.357/.500 Casey Blake
.353/.436 Andre Ethier
.353/.353 Tony Gwynn Jr.
.250/.500 A.J. Ellis
.147/.189 James Loney
.107/.138 Juan Uribe
.143/.143 Hiroki Kuroda
Like I said – some.
Kemp, Carroll and Ethier (who hit his first home run of 2011) each had three hits; Gwynn added two. Kemp and Gwynn also combined to steal five bases, and Kemp had an outfield assist. Kuroda, who started last season 0 for 45, got his first hit of this season in his second game.
Loney did walk twice, and he continues to shine on defense. Uribe, meanwhile, is off to a 3 for 28 start with no walks.