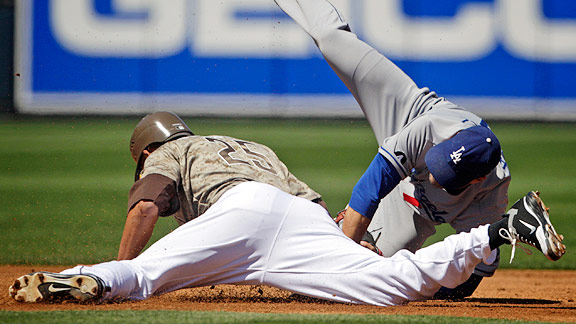 Lenny Ignelzi/AP
Jamey Carroll caught Rod Barajas' throw on the short-hop and made a tremendous tag of Will Venable trying to steal in the second inning.John Ely had thrown 5 2/3 innings and allowed two runs. He had struck out his last two batters, giving him five on the day. He had a three-ball, two-strike count on Padres left fielder Ryan Ludwick.
Ludwick fouled off three more pitches. An out on any one of those, and Ely can walk tall off the mound.
The next two pitches: ball four, home run.
Nick Hundley's shot to center with Ludwick aboard gave the Padres a 4-1 lead, on their way to a 7-2 victory over the Dodgers.
Ely's line ends up looking ugly: four runs and nine baserunners in 5 2/3 innings, but he really did mostly pitch a good game.
With all that in mind, Padres starter Aaron Harang nearly handed the Dodgers the lead in the sixth and seventh innings. He walked Ely and gave up a single to Tony Gwynn Jr. to start the sixth, but Ely got picked off second base during a missed bunt attempt by Aaron Miles.
Then in the seventh, Harang had a play to throw out Matt Kemp at third on a comebacker by James Loney, but threw the ball away, allowing Kemp to score. However, after reliever Luke Gregeron hit Juan Uribe with a pitch, Rod Barajas grounded into a double play.
Harang ended up allowing one earned run over six innings. Dodger relievers Kenley Jansen and Lance Cormier combined to give up three runs in the final two innings.
The Dodger offense consisted only of Gwynn (1 for 3 with a walk and stolen base), Kemp (2 for 4 with a steal) and Ethier (1 for 4). The remaining position players went 0 for 16. The team's only earned run came on a first-inning walk to Gwynn, a steal, a sacrifice and a groundout.
This season, Uribe has a .172 on-base percentage, and nearly half of that has come from being hit by pitches. He has two HBPs, two singles, a double and no walks in 29 plate appearances.
* * *
In his rehabilitation start, Jon Garland went 4 2/3 innings for Rancho Cucamonga, allowing four runs on six hits and no walks while striking out three.