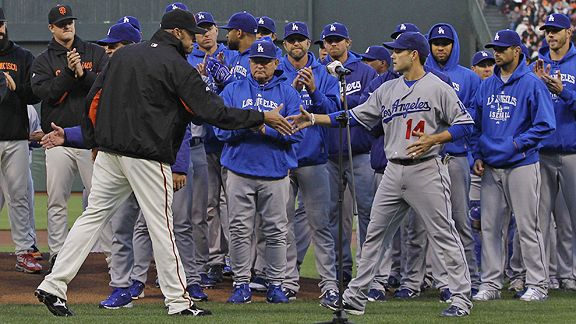 Eric Risberg/AP
Jeremy Affeldt and Jamey Carroll conclude the on-field ceremony with a handshake.Monday night's pregame ceremony by the San Francisco Giants and Los Angeles Dodgers against fan violence, part of a concerted response to the horrible beating of Giants fan Bryan Stow on March 31, was unprecedented but wonderfully rendered.
Coming after a warm presentation that saw former Giant and current Dodger Juan Uribe receive his World Series ring amid applause and smiles from both teams, the event illustrated how simple it is to embrace a rivalry without being overwhelmed by it.
Dodger and Giants players gathered on the field and paused for a moment of silence on behalf of Stow. Then, Giants pitcher Jeremy Affeldt took to the microphone and thanked fans of both teams for their support of Stow.
"I don't think I need to tell you guys about the Dodger-Giants rivalry," Affeldt said. "It's one of the most storied rivalries in the history of the game. But in honoring that rivalry, and honoring the Stow family, we ask that you respect the rivalry, and you respect each other as fans. You guys have rights as fans. You guys have the right to cheer. You have rights to wear the black and orange. You have rights to wear Dodger blue. You have rights to be frustrated when one team loses and excited when one team wins.
"We're fierce competitors, but when the last out is made, that rivalry ends upon the field. So please respect that, and in your excitement or in your frustration, don't take it out on another fan if you don't agree with who they cheer for."
Affeldt then introduced Dodgers infielder Jamey Carroll, whom he called a friend, an ex-teammate, a good husband, a good father and a good human being. Carroll reiterated Affeldt's gratitude for the support of Stow and his family, as well as the call for perspective.
"There's nothing better than rivalry in sports," Carroll said. "And as Jeremy said, this is one of the best that's out there. And as we do respect each other on the field, we do want you guys to have the same respect."
Carroll said "competitive banter and passion" were praiseworthy, "but there's no room in this game for hatred and violence."
"It is about respect," Carroll concluded. "It is about civility. This is America's national pastime, and let's keep it that way."
They shook hands.