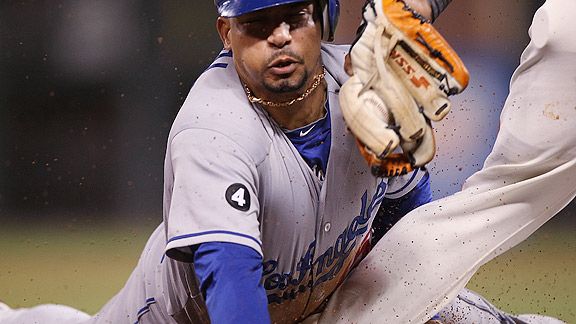 Jed Jacobsohn/Getty Images
Rafael Furcal hurt his thumb on this fifth-inning slide.As noted below and reported by Tony Jackson of ESPNLosAngeles.com, Rafael Furcal hurt his thumb tonight sliding hand-first into third base. Following the game, it was revealed that the thumb is broken, and that Furcal will be out a minimum of four weeks and as many as six.
Dylan Hernandez of the Times said that Furcal was despondent enough to be "pondering retirement," though we'll assume for the time being that the depression was talking then. Here's what Jackson wrote:
Furcal actually hinted at retirement, but that seemed to be nothing more than an emotional reaction to having received the bad news.

"I'm thinking about retiring if I can't get back to being healthy," said Furcal, who has a history of back injuries and missed a month each last season with injuries to his lower back and right thigh. "I was feeling so good with my back, and now I break my finger."
With Furcal out for a lengthy period, Jamey Carroll would see the most time at shortstop, though the Dodgers have to be careful with the 37-year-old. With Casey Blake also ailing, that also means more playing time for Aaron Miles. An infielder will no doubt be called up if Furcal goes on the disabled list, but I'd guess Ivan De Jesus Jr. (who is on the 40-man roster). As alternatives, Justin Sellers or Juan Castro would get the call before the still-green Dee Gordon would. (Tonight, as Jerry Sands homered for the third-straight game and Jay Gibbons had three hits and a game-winning RBI, Gordon stole his fourth base of the season but also made his fourth error and struck out four times.)