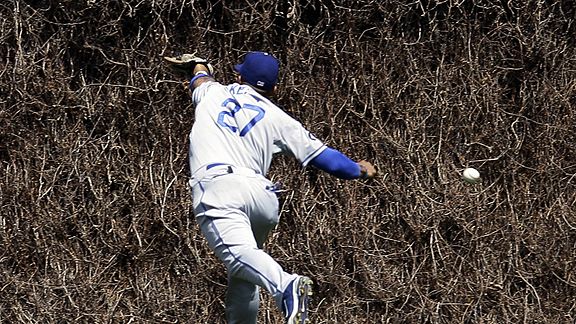 Nam Y. Huh/AP
Matt Kemp was ivy bait in the early going, before the seeds were planted for a Dodger comeback.This looked like one of those balance-the-scales games – everything that went right for the Dodgers on Friday would go wrong today.
Then it looked like a testament to the Dodgers' resiliency over a tumultuous week.
In the end, it turned out to be one of those "Who knows, anything goes" contests we've seen time and again from the blue boys. The Dodgers stormed back from a 5-1 deficit to an 8-5 lead today in Chicago, before previously unscored-upon reliever Matt Guerrier allowed five smackers in the bottom of the eighth for a 10-8 Dodger loss.
Despite starting pitcher Ted Lilly allowing 11 hits to 23 batters, despite Jerry Sands losing a fly ball in the sun, despite two outfield misplays by Matt Kemp, despite the Dodgers picking off two runners in the fourth inning and throwing out neither, Los Angeles looked like it would roll to a four-game winning streak after rallying for seven unanswered runs from the fifth inning to the seventh.
Homers by Casey Blake (2 for 3, two walks, .962 OPS this season) and Kemp off Chicago's Ryan Dempster accounted for three runs in the top of the fifth inning, cutting the Cubs' lead to one. Then came a noteworthy decision by Cubs manager Mike Quade.
Lilly exited after allowing a one-out single in the bottom of the fifth, and Mike MacDougal walked two of the next three batters to load the bases. That brought up Dempster, who was coming off his rough top of the fifth and was already in the neighborhood of 90 pitches. Quade let Dempster bat, and though he nearly got away with it when MacDougal's wildness sent the count to 2-0 and 3-2, Dempster struck out swinging.
Dempster's next batter, Rod Barajas, homered to tie the game to start the sixth.
Perhaps the most dramatic moment came later in the inning. After Tony Gwynn Jr.'s pinch-triple and Casey Blake's two-out walk, Quade finally pulled Dempster in favor of lefty reliever Sean Marshall. Marshall faced Andre Ethier, who was 5 for 23 against left-handers this season. With his 19-game hitting streak was on the line. On a 1-2 pitch, Ethier lined a double to right field, scoring both runners and giving the Dodgers the lead.
Sands later helped manufacture the Dodgers' eighth run when he singled, stole second, went to third on a throwing error and scored on a Barajas groundout even though the infield was in.
Jemaine Clement-lookalike Vicente Padilla protected the lead in his season debut, retiring all three batters he faced in the sixth, and Guerrier sailed through the bottom of the seventh. But the Cubs pummeled Guerrier in the eighth.
Starlin Castro, the 21-year-old who went 4 for 5 to raise his season OPS to .947, drove in two, and then an RBI forceout by Darwin Barney tied the game. A bloop single by Aramis Ramirez extended the inning and knocked Guerrier out. Blake Hawkworth relieved, and gave up a two-run double to Baker to complete the eighth-inning disaster.
James Loney tried to tie the game in the ninth with a fly ball after Sands walked, but like his 2011 season, it fell far short. Carlos Marmol struck out Barajas, and the game was over.
Loney went 0 for 5, his on-base percentage falling to .191 and his slugging percentage to .212.
The Cubs continued their unprecedented run of early season .500 baseball. They have been 1-1, 2-2, 3-3, 4-4, 5-5, 6-6, 7-7, 8-8, 9-9 and now 10-10 this year. The Dodgers, meanwhile, fell to 11-11.
* * *
In case you weren't sure, Hector Gimenez's knee injury is legit. Gimenez, who was placed on the disabled list April 10 to (conveniently, it seemed) make room for the callup of John Ely, will have arthroscopic surgery next week. Tony Jackson of ESPNLosAngeles.com has details in a story that also heralds a minor-league rehab assignment for Hong-Chih Kuo and tells us about leg-soreness for Juan Uribe.
* * *
Here's Jackson's update from Don Mattingly on the controversial A.J. Ellis steal attempt from Friday:
... Mattingly, in his first year as Dodgers manager, confirmed it was a mix-up but defended a running play in that situation.

"Long story short, we missed the sign," Mattingly said. "We weren't trying to run there. Definitely weren't going to run A.J. We weren't doing it but it is Wrigley and the other day we did give up eight runs in the ninth. We're trying to win a game, but we weren't running there." ...
With what happened today, I suggested Quade issue a retroactive approval of the steal attempt.