As I feared when he entered the game as a relief catcher in the seventh inning, Dioner Navarro couldn't close out the three-inning save.
Here's what happened in the final inning:
1) With a 4-3 lead, Jonathan Broxton is within one strike of a perfect ninth and a save.
2) Broxton walks Emilio Bonifacio.
3) Broxton gives up a single to pinch-hitter Hanley Ramirez to put the tying run at third.
4) Scott Cousins up. A called strike, then a slow roller. Jamey Carroll charges, sticks down his glove and comes up completely empty. Bonifacio scores the tying run.
5) Cousins takes second base on defensive indifference.
6) Chris Coughlan, who homered twice off Jon Garland, is walked intentionally.
7) Omar Infante, who bailed Vicente Padilla out of the eighth inning by getting thrown out by Matt Kemp at third base, lines a catchable but hard-hit shot past Jerry Sands for a game-winning single. Dodgers lose to Florida, 5-4.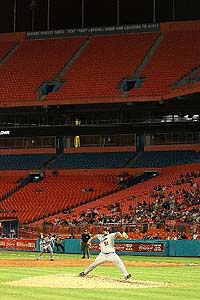 Mike Ehrmann/Getty Images
Jonathan Broxton
And that's really what the Broxton slide has been about - a loss of dominance (since mid-2010), punctuated by recurrences of really bad timing.
When Padilla gave up an RBI single to Gaby Sanchez the inning before to cut the Dodgers' lead to one run, I commented, "The way that the Dodger bullpen has been this season, how does anyone have any anger left by the time Broxton gets into a game?" Of course, I know the answer.
I think if 1) Cousins had delivered a hit instead of what should have been a game-ending ground out, tonight might have marked the end of Broxton's run as a Dodger closer if 2) there were any alternative doing better. But there isn't.
There's no way around the fact that the Dodger bullpen is underperforming as a unit, and all fans can do is wait for someone to get it together, or look for Ned Colletti to make a desperation move (approved by his new overlord, profiled here by Tony Jackson of ESPNLosAngeles.com) that somehow makes a difference. Broxton is the last bit of air out of the leaky balloon that is the relief crew.
For the visitors, it was a grind-it-out game virtually the whole way. The Dodgers fell behind 2-1 on the two Coughlan homers, but came back thanks to Rod Barajas reaching first base after striking out on a wild pitch, Ivan De Jesus getting his second hit of the game (and third of his career), Jon Garland laying down a sacrifice bunt, Aaron Miles driving in a run with a groundout and then Carroll, looking like a hero, delivering an RBI single for a 3-2 lead.
The Dodgers' fourth run came from its most downtrodden hitter, James Loney, pushing a single to center past a drawn-in infield.
It was that close to a night of well-earned celebration for the Dodgers, who saw Sands get three hits and Andre Ethier break baseball's all-time April hitting streak record with a first-inning single that extended his skein to 22 games. But for the second time in three games, the bullpen couldn't finish.