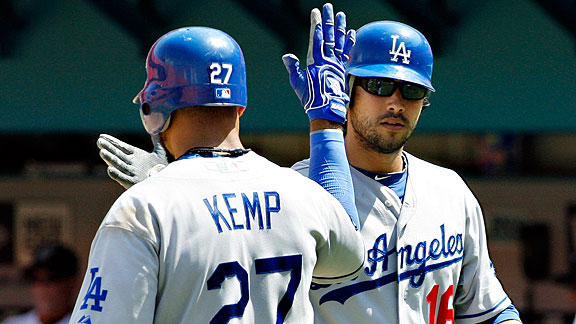 Jeffrey M. Boan/AP
Andre Ethier, congratulated by Matt Kemp, leads the majors with 38 hits. His pace is 237 for the season.For the second time in the past five days, the Dodgers rallied from a four-run deficit -- but unlike in Chicago, this time they hung on for a 5-4, 10-inning victory over Florida today.
Andre Ethier, who extended his hitting streak to 24 games with a fourth-inning single, hit a leadoff homer in the top of the 10th inning off the Marlins' eighth pitcher, Brian Sanches -- who had been unscored upon in 13 2/3 innings this season.
Chad Billingsley allowed five hits in six innings, but unfortunately, all five came in a four-run second inning (capped by a three-run double by Chris Coghlan, who had 12 total bases in the three-game series). But Rod Barajas hit a three-run homer, his fifth of the year, after singles by Ethier and James Loney in the fourth inning. The Dodgers tied the game in the seventh on an RBI double by pinch hitter Juan Uribe.
The Dodgers had a chance to win in regulation time after loading the bases on walks with one out, but Ivan De Jesus Jr. hit into a double play. And they had a chance to lose it when two hits off Matt Guerrier, one courtesy of an Aaron Miles misplay, helped the Marlins get to second and third with one out in the bottom of the ninth. Guerrier then retired Scott Cousins and John Buck.
Marlins starter Anibal Sanchez, who took a no-hitter into the ninth inning in his last start, left after five innings and only 74 pitches today.
Vicente Padilla, who had been warming up in the bullpen with the score tied after nine innings when Ethier homered, entered the game anyway for the bottom of the 10th and closed it out on three groundouts.
Ethier, who moved ahead of Matt Kemp (1-for-3 with two walks) as the team's batting-average leader, .380 to .378, is now tied with John Shelby and Zack Wheat on the Dodgers' all-time hitting streak list. Kemp still leads Ethier in on-base percentage (.460 to .451) and slugging percentage (.612 to .560).