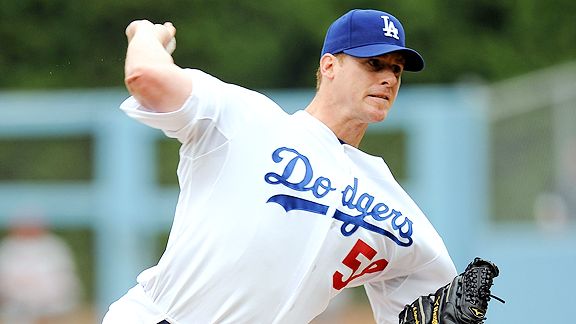 Harry How/Getty Images
Chad Billingsley retired 24 of 27 batters.It hasn't even been half a season since the game last September when the Dodgers won despite getting one hit, so it's not like the concept should be entirely foreign to us.
But that doesn't make it much less melancholy for Dodger fans to ponder the fact that Chad Billingsley went eight innings, allowed two walks, one hit and no earned runs while striking out eight and still took a 1-0 loss to Arizona.
According to ESPN Stats and Info, those are the only two games won by a road team with one hit since 1993. According to the Elias Sports Bureau, the last time the Brooklyn-Los Angeles franchise lost when allowing one or fewer hits occurred on July 17, 1914 in Chicago.
The run came across in the second inning on a Melvin Mora sacrifice fly after a Stephen Drew double and a throwing error charged to Billingsley on a pickoff attempt – that Jamey Carroll gamely took responsibility for.
"Miscommunication. It was my fault," Carroll told The Associated Press. "Obviously, I was supposed to cover. He threw it and nobody was there."
Billingsley, who doubled (for the second time this season) to match the hit he allowed, lowered his season ERA to 3.36 even as his won-lost record fell to 2-3. Over his past six starts, Billingsley has a 1.91 ERA and 37 strikeouts in 42 1/3 innings against 42 baserunners.
Dodger starting pitchers have now thrown 22 consecutive innings without allowing an earned run (not counting the two rained-out frames by Jon Garland on Thursday) and have a 0.64 ERA over the past four starts.
The Dodger offense consisted of a walk and four hits – two by James Loney, including his first extra-base hit in 34 games since April 6, a leadoff eighth-inning double. What happened next – a sacrifice by Rod Barajas and a pinch-hitting appearance by Dioner Navarro in place of Jerry Sands (Navarro struck out) – I'll just say I would have done things differently than Don Mattingly did. ESPNLosAngeles.com's Tony Jackson said it "might have been Mattingly's worst-managed inning since he took over."
But let's face it – it's not like the Dodgers didn't have plenty of other opportunities to get something going against Josh Collmenter, who was making his first major-league start and allowed two hits and no walks over six innings and 71 pitches. At one point, Billingsley and Collmenter combined to retire 21 batters in a row, and there were no hits by either team in the third, fourth, fifth, sixth and seventh innings.
In the ninth, Carroll singled and with one out, Andre Ethier walked (giving him 37 straight games reaching base), but Matt Kemp hit into a game-ending double play. "Arizona's relievers have been charged with just one earned run over 33 innings during the team's first 11 games this month," said AP, a contrast from last season's giveaway bullpen.
The Dodgers' three-game winning streak ended with them missing their chance to reach 20-20 this season.