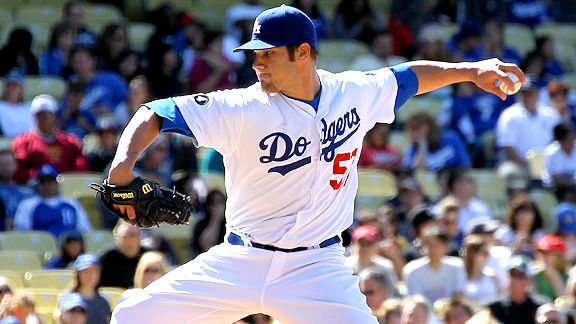 Stephen Dunn/Getty Images
Scott Elbert threw 19 pitches, 12 for strikes.Although there was another sad performance from the offense (including the end of Andre Ethier's on-base streak) and another disappointing inning from Ted Lilly, a four-run second in today's 4-1 Dodger loss, let's take some time to cheer for Scott Elbert. The lefty, whose season went so awry a year ago, got off to a great 2011 start for the Dodgers by striking out the side in the eighth inning.
Javy Guerra made his major-league debut in the next inning and allowed a one-out single and nothing else.
* * *
Update: Contrary to initial reports, Rafael Furcal did not bat right-handed Saturday for Albuquerque, according to Tony Jackson of ESPNLosAngeles.com. Sunday, Furcal doubled leading off the game on the way to a 1-for-4 day. He also made an error.