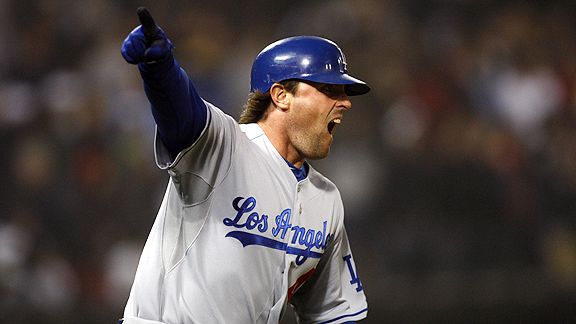 Jerry Lai/US Presswire
Russ Mitchell
Banging against the door.
White Sox 3, Dodgers 2. None out, top of the eighth, bases loaded.
Banging against the door, like they were down 5-2 in the eighth Wednesday.
Banging against the door, like they were down 3-1 in the ninth Thursday.
Banging against the door, and no one will let them in.
Wednesday, tie the game then lose.
Thursday, hit a line drive with the bases loaded and lose.
Tonight, strand the bases loaded and ...win?
Lose another starter, Juan Uribe, to injury and ... win?
Two out, bottom of the ninth, bases empty and ... win?
Russ Mitchell, 1 for 14 on the season, 7 for 56 in his career and ... win?
Sergio Santos, 20 2/3 innings pitched on the season, 0.00 ERA and ... win?
Bang that door down.
Mitchell, whose seven career hits included two home runs, drove a 2-1 fastball just inside the left-field foul pole to tie the game at 3.
Then in the 10th, after Jamey Carroll's fourth hit of the game and Matt Kemp's second, Juan Castro, who had wasted bases-loaded opportunities in his two previous at-bats this week, looped one over a leaping Paul Konerko for a 150-foot single, driving in Carroll. James Loney, who had been 0 for 4, doubled to right for a 5-3 lead. Then, after an intentional walk to Dioner Navarro (you got me), Jay Gibbons singled home the third run of the extra inning.
Was that enough? It would have to be, after Mitchell grounded into a double play. It would have to be, even as Matt Guerrier gave up leadoff singles to 77-year-old Omar Juan Vizquel Pierre.
Mitchell's heroics weren't done, as it turned out. The third baseman dove to his left to corral Alexei Ramirez's grounder for the first out of the inning.
Then Don Mattingly started playing percentages. He brought in Scott Elbert – who head-butted all kinds of doors last year – to retire Adam Dunn on a groundout to Loney for a meaningless RBI. And then Mattingly brought in Mike MacDougal, who faced Konerko.
Konerko hit it to Castro, who bobbled it but had plenty of time to pick it up and throw the final batter out.
And so finally, the script had changed. A first-inning home run by Kemp wouldn't go to waste. A three-run second inning off Ted Lilly wouldn't spell doom. The sight of Jerry Sands in center field next to Jay Gibbons in left in the late-night fog wouldn't lead to a comedy of errors. A final-inning rally would actually succeed.
On to the next door ...
* * *
To recap the last five Dodger victories:
May 20: Dodgers 6, White Sox 4 (10) – Juan Uribe left hip flexor
May 17 – Dodgers 3, Brewers 0 – Vicente Padilla unavailable
May 13 – Dodgers 4, Diamondbacks 3 – Zach Lee MRI revealed
May 11 – Dodgers 2, Pirates 0 – Hong-Chih Kuo to the disabled list
May 10 – Dodgers 10, Pirates 3 – Blake Hawksworth hurts groin
Tony Jackson of ESPNLosAngeles.com has a length update on all the injured Dodgers.