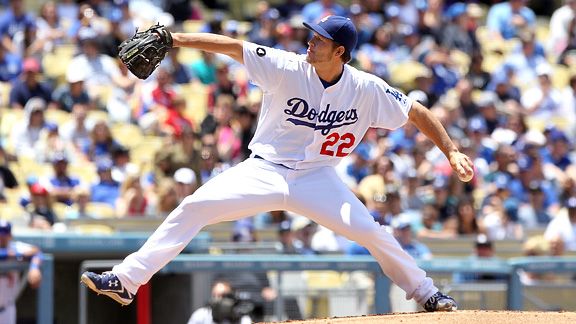 Jeff Gross/Getty Images
Clayton Kershaw
So that's what a breeze feels like.
Sailing into a storm most of the season, the Dodgers enjoyed a day with the wind entirely at their backs, with Clayton Kershaw in near no-hit form and the offense practically an arcade, leading to an 8-0 breeze over the Marlins.
The Dodgers took two of three from Florida for their first series victory since April 22-24 in Chicago. If you're any kind of believer – and praise be onto you if you are – this is where it starts, all the ifs and buts transforming into actual results.
Whether they can extend this one-game winning streak, matching their longest since May 13 (yes, that's right), is of course up in the air, but if in fact it's a blip on the losing radar, it was a blip to be savored.
Kershaw's marquee game in my mind remains his showdown victory over Ubaldo Jimenez of Colorado 12 1/2 months ago, but as Mike Petriello of Mike Scioscia's Tragic Illness points out, today was Kershaw's finest statistical outing ever – a Kershawnal Best, if you will – allowing two hits and one walk while striking out 10 in his second career shutout. The second hit off Kershaw was a ball that Jay Gibbons lost in a battle with the sun and an unusually ferocious wind, which would have been exceedingly painful for fans had Omar Infante not singled softly to left in the third inning.
In any case, Kershaw, who lowered his ERA to 2.62 and now leads the major leagues with 87 strikeouts, was in complete control.
"He was hitting both sides of the plate and throwing inside on lefties, which you don't see that much from a lefty," Florida's Wes Helms told The Associated Press. "Kershaw just commanded all of his pitches today, and he had above-average stuff. He knows how to bury his curveball and his slider. He's not going to leave it over the middle of the plate. I mean, you get geared up for that heater, and his slider's hard enough that you can't hold up when it's in the dirt."
It was a Hershiseresque day all around for Kershaw, who had as many hits at the plate as he allowed. The 23-year-old, who was 10 for 132 entering this season, is 6 for 25 in 2011. His two hits were only 13 percent of the Dodgers' 15 off Marlins starter Ricky Nolasco, who was forced to stick it out for five innings after Florida blew out its bullpen Saturday. The total tied a Los Angeles record for the most off a single starting pitcher (Mario Soto of Cincinnati was the last victim, in 1982).
Gibbons, Andre Ethier and Rafael Furcal each had three, including Furcal's first homer of the year, a two-run shot to the right-field bullpen that gave the Dodgers their initial lead after Kershaw led off the bottom of the third with a single. Ethier reached base in all five plate appearances, while Dioner Navarro went 2 for 4 to complete a 7-for-18 week.
Dodger life is good today, for the second time in three days.
* * *