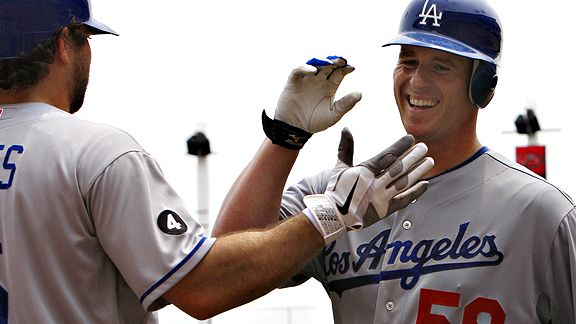 David Kohl/AP
Aaron Miles congratulates Chad Billingsley on hitting his second home run since Miles last hit one.Chad Billingsley couldn't bring it today on the mound, but he sure brought it at the plate.
Billingsley somehow managed to overshadow Matt Kemp's third home run in two days by going deep himself in the second inning, walking with the bases loaded in the third and doubling in a run in the fifth inning, helping the Dodgers to a 9-6 victory.
Billingsley, who entered the game OPS-ing a career-high .638 (5 for 21 with two doubles), surged to .950, which is second in the major leagues among pitchers to J.A. Happ's .959. (Today's double wasn't cheap, either – it landed on the warning track and one-hopped against the wall.) His efforts, combined with Kemp's prodigious two-run home run in the first inning and a total of 13 hits and 10 walks from the Dodger offense, boosted the Dodgers to 20 runs over the past two days, 17 of them coming in a eight-inning span.
Kemp was 2 for 3 with three walks, Andre Ethier 2 for 4 with a walk, Jamey Carroll 1 for 4 with two walks, James Loney (batting eighth) 1 for 2 with three walks, Aaron Miles 2 for 6. Rod Barajas added a significant two-run double. Ethier and Kemp (who reached base five times for the third time in his career) each lifted their 2011 on-base percentages back over .400.
Sobering for the Dodgers was this: This wasn't the first time Billingsley homered and doubled in the same game, and things went more than a little rough when it happened before. On July 5, 2009, Billingsley did the same in San Diego while holding the Padres to one run over the first eight innings, only to have the Dodgers blow a 6-1 in the ninth inning in a game that, following the 2008 playoffs, helped make Jonathan Broxton very unpopular among many Dodger fans. (The Dodgers ultimately won, 7-6.)
So what would happen today? Los Angeles ultimately removed Billingsley after five innings, four runs, 12 baserunners and 106 pitches. John Ely, called up to support the injury-depleted pitching staff, had an opportunity for a four-inning save. He started a little shaky, giving up four baserunners and a run in his first two innings, but had a nice eighth inning in which he retired Brandon Phillips, Joey Votto and Jay Bruce in order. It was the first time in the game either team had a 1-2-3 inning.
Ely came out for the ninth, but lost his save opportunity when he walked Ryan Hanigan and Don Mattingly replaced him with Josh Lindblom, who started out by walking Miguel "33 homers in 1,359 games" Cairo and, looking really wild, hitting Ramon Hernandez in the shoulder to load the bases. Tying run up at the plate, nobody out.
As Ramon Troncoso began warming up in the bullpen, Paul Janish, who was 3 for 3 at that point, fouled out to Barajas. Pinch-hitter Chris Heisey flied deep to right for a "we'll take it" sacrifice fly.
Facing Drew Stubbs, who had a chance to follow his leadoff homer in the first inning with a game-tying homer in the ninth, Lindblom fell behind in the count, 2-1. But then it all came together for Lindblom. The next two pitches were nasty fastballs at the knees, and Stubbs whiffed at both ... and the Dodgers had held on.
Weird note: The Dodgers average 3.7 runs per game, but haven't finished a game with exactly four runs since May 13.