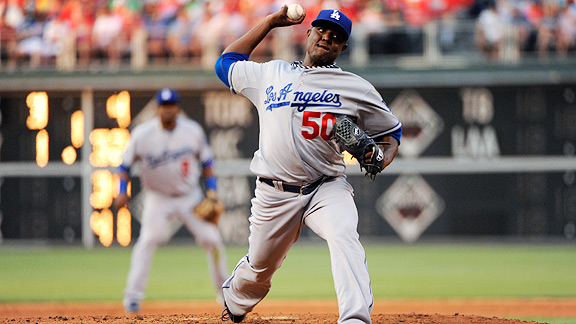 Howard Smith/US Presswire
Rubby De La Rosa was oh-so-wild but managed to hold the Phillies to 1-for-8 hitting with runners in scoring position.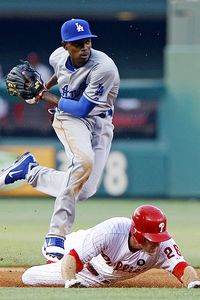 Matt Slocum/AP
Dee Gordon forces Chase Utley out at second base.
Tony Jackson of ESPNLosAngeles.com captures the end-of-game reaction to the debuts of Dee Gordon and Rubby De La Rosa, coming at the end of a 6-2 Dodger victory over a surprisingly inept Phillies team.
There were other surprises – the way that Gordon got hits in his first three at-bats, the way that De La Rosa recovered from a nervewracking start that seemed destined to send him or us to an asylum by retiring his final six batters.
But for those who fear change, there was the comforting sight of Matt Kemp knocking a double and then a home run, tying him for the league lead in that category.
One look at Jerry Sands, who went 0 for 4 to fall to 3 for 35 since his May 24 grand slam in Houston, reminds us that growing pains are practically inevitable, no matter how hot your start. But why do we love new, young players so much? Because who can resist the possibility that the glimpse of greatness we see might grow?