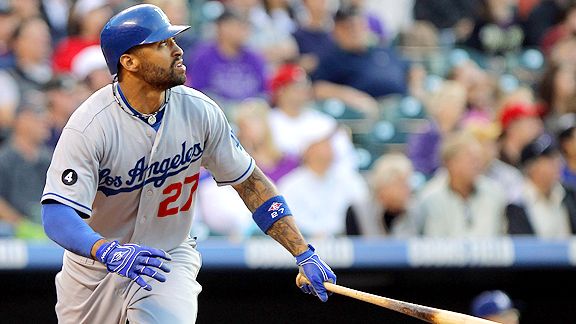 Doug Pensinger/Getty Images
Matt Kemp watches his fourth-inning home run leave Coors Field.
More than once tonight, Vin Scully wondered why any team would pitch to Matt Kemp. He even wondered it when there were runners on first and second base.
We were wondering the same thing.
While the Dodgers struggle to find a No. 5 hitter who can swing the bat – they had a woeful .278 on-base percentage and .333 slugging percentage in that spot of the batting order entering the game, and slumping Juan Uribe batting there tonight – Kemp has just been unstoppable. Tonight, he homered, tripled in two runs and doubled as the Dodgers took a 7-3 into the seventh inning in Colorado.
But a not-so-funny thing happened as we mused about Kemp's supremacy: In tit-for-tat fashion, the Dodgers gave back their rousing comeback victory in Cincinnati from five days ago, blowing the four-run lead and losing to the Rockies, 9-7. The defeat sent the Dodgers into last place in the National League West.
For his second start in a row, Clayton Kershaw was absolutely cruising through five innings, working on a shutout before getting knocked around in the sixth. And this time, the Dodgers couldn't pick up the pieces.
It didn't help that, with one out and one on in the sixth, Rockies infielder Chris Nelson hit a one-hop shot hard off Kershaw's leg. Kershaw walked the next batter, Todd Nelson, before giving up a bases-loaded double to Troy Tulowitzki and then an RBI groundout to Ty Wigginton.
In the top of the seventh inning, Kershaw singled for the second time in the game, raising his season batting average to .276 as he competes with Chad Billingsley for Silver Slugger honors. (Billingsley is still tops.) Kershaw then scored all the way from first on a SpeeDee Gordonzalez bunt single that was thrown away by Rockies catcher Jose Morales. RBIs by Casey Blake and Andre Ethier (3 for 4) built the Dodger lead back to 7-3.
But Kershaw again couldn't survive the bottom of the seventh, loading the bases with none out on two hits and a walk, leaving the game with six strikeouts against 10 baserunners – seven of which came in his final inning-plus. And the bullpen, which really has been so good lately (the current group of seven had an ERA of 2.00 in 49 1/3 innings over the past month), collapsed. Ultimately, it took four pitchers (Kershaw, Scott Elbert, Mike MacDougal, Blake Hawksworth) and 48 pitches for the Dodgers to get three outs, and not before the Rockies scored five runs to go ahead, 8-7.
Elbert let three inherited runners score and was charged with his first two runs of the season. MacDougal was on the mound when Elbert's runs scored – and as Tony Jackson of ESPNLosAngeles pointed out, the veteran righty has allowed 11 of his past 24 inherited runners to score.
Some wanted to blame Dodger manager Don Mattingly for leaving Kershaw in too long, but even if that's so, the bullpen should have been able to protect the lead.
Josh Lindblom gave up a single, double and sacrifice fly in the eighth to double the Dodger deficit, though the rookie did well to induce pop outs from Tulowitzki and Wiggington to minimize the damage.
Then came the ninth inning, with Blake, Ethier and Kemp representing the Dodgers' shot at another comeback. After Tulowitzki made a great play on Blake's grounder for the first out, Ethier doubled off the wall in right field, meaning that Kemp not only could hit for the cycle with a single, he could tie the game with a homer. And the question came again: Do you pitch to him?
Rockies manager Jim Tracy had Huston Street challenge Kemp, and this time, he struck out.
The final batter of the game was Rod Barajas, who pinch-hit for Uribe because Barajas was 6 for 9 with a double and a home run against Street in his career. But Barajas flied harmlessly to right.
To mask the bitter taste of defeat, Dodger fans were left with only the joy of Kemp, who took over the National League lead in home runs with 18. If that isn't impressive enough, he has 23 home runs in his past 69 games – exactly one every three games, or for you mathletes out there, a pace for 54 homers per 162 games.
I said this in the Dodger Thoughts comments earlier this week, but I remember how impressed I was when Toronto's Jose Bautista hit his 20th home run on May 28. At the time, Kemp had 12. Now, the score is 20-18.
He is flat out on fire, and the only concern here is that he'll remember how much he enjoys the better hitting environments outside of California when free agency eventually arrives for him. In the meantime, cheering for Kemp remains the consolation prize.