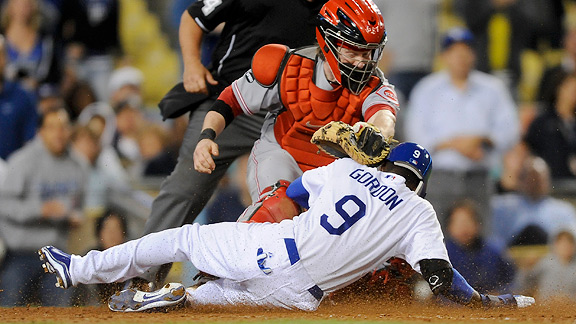 Gus Ruelas/AP
Dee Gordon slides home in the bottom of the eighth.For the first time, I sat in the Dugout Club seats, which offered some interesting sights. I saw Joey Votto tell Steve Schirripa from the on-deck circle how much he liked "The Sopranos." I held the men's room door open for Joe Torre, whose arm was in a sling. (I would have asked why, but the extra brain exertion would have affected my door-holding performance.) I saw the special "Dugout Club Insider" magazine, with a story on Chad Billingsley test-driving a Mercedes. I saw tons of food everywhere, for free (notwithstanding the cost of the ticket that my hosts provided).
And I saw Dee Gordon, practically life-size. Oh wait – that was life-size.
Mini-Dee was central to the Dodgers' game tonight, mostly for good but unfortunately for them, also for bad. He was diving here, throwing guys out there, flying around the bases everywhere, driving in a run with a triple and scoring one on a sacrifice fly that was hit about 27 feet. But almost literally at the moment that I was holding the door for ol' Joe, Gordon was muffing a ground ball to open the seventh inning. Aaron Miles made another error soon after, and suddenly another door was open – this time for the Reds, who got a three-run home run from Votto off Matt Guerrier on their way to a 6-4 victory.
Gordon's offensive efforts helped the Dodgers cut a 6-2 deficit down to two runs, in the eighth, and Matt Kemp walked to open the ninth, his third time on base in four trips. But James Loney, who had two hits earlier in the game behind Kemp, struck out, as did pinch-hitter Rod Barajas, as did catcher Dioner Navarro.
The Dodgers, who average 3.93 runs per game, scored exactly four runs for the first time in exactly one month – but lost.
It was a rough way to end what seemed like it might be another Dodger comeback – the team, for all its faults, does have a way of making you hope. But even while they're losing, Mneep Mneep keeps it entertaining – at least from my vantage point.
* * *