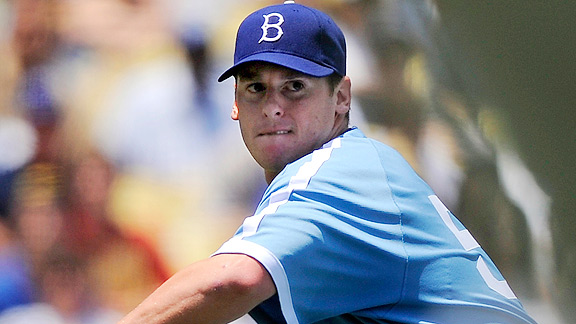 Mark J. Terrill/AP
Chad Billingsley allowed seven runs on nine hits and four walks in four innings today.Chad Billingsley through the end of May: 75 1/3 innings, 71 strikeouts, 100 baserunners, 3.46 ERA.
Chad Billingsley in June, including today's game: 13 2/3 innings, nine strikeouts, 43 baserunners, 11.19 ERA.
Update: Tony Jackson of ESPNLosAngeles.com has more on Billingsley, who is frustrating Don Mattingly, in part because Billingsley was even or ahead in counts when he gave up all nine of his hits allowed today.
... "Honestly, it's still the same stuff,'' Mattingly said. "You still see the ball coming out the same way. But you can't just throw the ball by people, because if you're going to catch too much of the plate, you're going to get hit. It's as simple as that. (The Reds) are too good a team, and really, everybody you face, you have to throw the ball where you want it. If you can't (do that), you're going to be in trouble."

Billingsley was at a loss to explain the way he has pitched of late.

"I definitely didn't get the job done," he said. "I was throwing strikes and getting ahead of hitters, but I couldn't put them away. I'm just not executing pitches in certain situations. It just wasn't very good today. I just have to come back out and get better, just keep working hard and figure it out."

Billingsley said there really was no difference in this start and his previous two, one of which he won despite giving up four runs on eight hits over five innings against the Reds in Cincinnati on June 5.

"It's the same problem,"' he said.

Dodgers catcher Rod Barajas said that besides not being able to spot his fastball, Billingsley (5-6) also didn't have the usual sharpness to his curveball against the Reds, something that only exacerbated his struggle.

"He is one of our horses," Barajas said. "When he goes out there, we expect him to go seven and give us a chance to win. The last few times out, it just hasn't been there. It's frustrating, not only for him but for everybody in this clubhouse. It's just a matter of getting behind him and encouraging him to get back to where he needs to be."