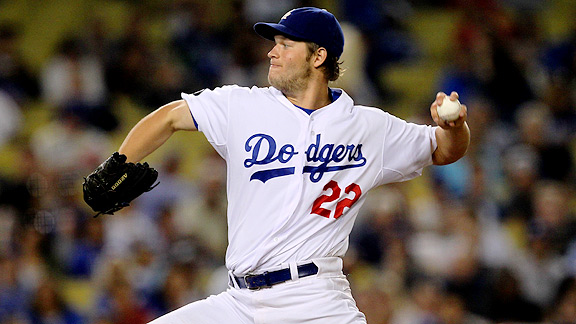 Stephen Dunn/Getty Images
Clayton KershawThat blankety-blank Clayton Kershaw – and I mean that in a good way.
As in, that Clayton Kershaw blankety-blanked the Detroit Tigers tonight, 4-0, for his second two-hit shutout in the past three weeks and, in his 99th career start, the top performance of his career.
On May 29, Kershaw struck out 10 in his 116-pitch two-hitter of Florida. Tonight, Kershaw struck out 11 members of one of the better offenses in baseball – including all three batters in the ninth inning – to complete his 112-pitch outing. The 23-year-old leads the majors in strikeouts with 117.
Kershaw faced only 29 batters in the game – with a tip of the cap to Dioner Navarro's perfect pickoff of Ryan Raburn at third base in the third inning – matching Sandy Koufax in Game 5 of the 1965 World Series for the quickest shutout and quickest victory over an American League team in Dodger history, regular season and postseason.
Kershaw also gave himself some breathing room in the bottom of the eighth with a two-out, two-run single to double the Dodger lead. Combined with his third-inning walk, Kershaw raised his 2011 on-base percentage to .333 – better than opponents are doing against him this year.
Since the bumpy blown leads of Cincinnati and Colorado, Kershaw has pitched 16 innings and allowed one run on six hits and three walks while striking out 15. And the Dodgers have thrown back-to-back shutouts, reducing their deficit in the National League West to seven games,
The game-winning RBI went to Juan Uribe, batting second tonight ahead of Andre Ethier as manager Don Mattingly tries to jump-start his season. Uribe didn't see many fastballs in his first trip to the plate but belted a 3-2 changeup from Brad Penny for his fourth homer of the year and first in more than 100 at-bats since April 29.
Update: The following is from ESPN Stats and Information:
How Dodgers starter Clayton Kershaw dominated the Tigers:
- Kershaw went to his slider as his out pitch. He threw 21 sliders for the game, 16 of which came with two strikes. All 12 outs he got on his slider came with two strikes, including a career-best 10 strikeouts (all swinging).
- Tigers hitters couldn't lay off his slider. They swung at 17 of the 21 (81 pct) he threw, including 14 of 16 (87.5 pct) with two strikes. No Kershaw opponent has swung more often at his slider in his career (min 3 sliders).
- Kershaw had good command of his slider, keeping it primarily down in the zone. He threw 10 sliders down in the zone, all with two strikes. Tigers hitters swung at eight of them and missed on seven.
Clayton Kershaw's Slider
Monday vs Tigers
Pitches 21
Swings 17
Misses 11<<
Hits 0
>>10 strikeouts (career high)
From Elias:
Dodgers pitcher Clayton Kershaw two-hit the Tigers in a 4-0 win, posting his third career shutout. Kershaw finished his shutout in style by striking out the side in the 9th. According to Elias, the last Dodgers starter to finish a shutout by striking out the side in the 9th was Sandy Koufax in his perfect game on Sept. 9, 1965 against the Cubs.
Kershaw's performance Monday tied him for the second-highest game score this season.
Highest Game Score - 2011 Season
June 14 Justin Verlander 94
Monday Clayton Kershaw 93<<
May 22 James Shields 93
May 29 Clayton Kershaw 92
Apr. 14 Cliff Lee 92
>>Kershaw: career best
It also ties for the fifth-highest ever in interleague play (behind a perfecto, a no-no, and a pair of 1-hitters).
Highest Game Score, interleague play (all-time)
David Cone, NYY 07/18/99 vs MTL 97 (PG)
Justin Verlander, DET 06/12/07 vs MIL 95 (NH)
Chris Carpenter, STL 06/14/05 at TOR 94
Mark Mulder, OAK 07/06/01 at ARI 94
Clayton Kershaw, LAD 06/20/11 vs DET 93
James Shields, TB 05/22/11 at FLA 93
Pedro Martinez, MTL 06/14/97 vs DET 93