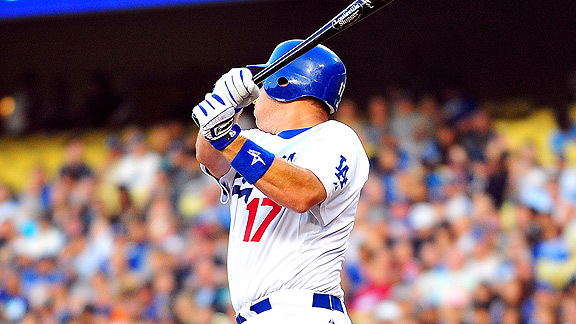 Gary A. Vasquez/US Presswire
In his first at-bat since returning to Los Angeles, A.J. Ellis drives in the Dodgers' first run.The third feel-good three-game winning streak for the Dodgers is here, with these highlights coming from a 6-1 victory over Detroit:
Hong-Chih Kuo returning to action for the first time since May 9 and throwing a nine-pitch perfect inning.

Matt Kemp stealing two bases to reach 20 homers and 20 steals in his 75th game this season.

A Dodger offense that gave Detroit starter Max Scherzer fits, with six runs on 11 baserunners in six innings.

A.J. Ellis reaching base twice in his first start since April, raising his season on-base percentage to .435.

Two times on base each as well for James Loney, Aaron Miles, Juan Uribe and Tony Gwynn Jr.

Andre Ethier hitting his seventh home run of the year, on a 3-0 pitch.

Back-to-back RBI doubles by Trent Oeltjen and Dee Gordon.

Chad Billingsley allowing one run in his first five innings, before running into trouble in the sixth.

Mike MacDougal overcoming us cynics by inducing a double play with the bases loaded in relief of Billingsley.

The Dodgers' ERA this week: 0.33 so far, with one run, 12 hits and six walks against 28 strikeouts in 27 innings.

For the second night in a row, a Dodger pitcher (Blake Hawksworth) struck out the side in the ninth.

Up in San Francisco, the Giants giving up eight runs before getting their second out of the game in a 9-2 loss to Minnesota.
The Dodgers will go for their first three-game sweep of a series and four-game winning streak of the season Wednesday afternoon.